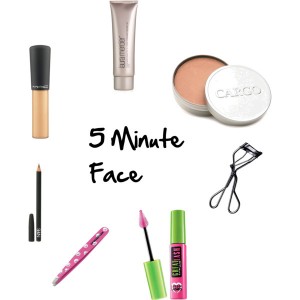 Today's on the go lifestyle has urged most women to whittle down their morning prep routine to a science. It is often squeezed in after an early morning gym session, in between getting kids ready for school and dropping them off or hurriedly rushed through after another sleepless night. Can you spare 5 minutes to look pulled together? If so, whether you're heading into the office, out to run errands or heading in for a parent-teacher meeting, here are a few steps to create your ideal 5 minute face.
Start by cleansing and applying a moisturizer with SPF.
Sleep deprived? For dark under eye circles apply concealer either with a brush or your fingers. If you have dark lids, feel free to dab a bit there as well.  For uneven and/or dull winter skin, apply a tinted moisturizer making sure that you blend it with your concealer for a uniform finish. 1 minute
For a sun-kissed glow, apply bronzer strategically. Use a wide bristle brush to dust in on in a C-formation that starts at your temples, dusts along your hairline and ends just under your cheekbones. 30 seconds.
 Freshen up tired eyes by widening them with a quick pump of an eyelash curler – beauty experts swear by Shiseido's version – and a swipe of mascara. 1 minute
If you'd like to further accent your eyes, make your lash line look fuller by applying eyeliner to the upper lid only. While lining your entire eye with a dark liner will make your eyes look smaller a great alternative, especially for older women, is a taupe pencil. Experiment with softer browns and blacks to find your ideal daytime shade. 1 minute
Many busy women are tempted to ignore their brows but I strongly encourage you not to. As they frame your face, manicured brows will make your overall look more polished.  Invest in a pair of tweezers to pluck stray hairs in between hair removal appointments. Fill in sparse brows with a pencil in a shade slightly lighter than your actual brow colour. 1 minute.
 Finish up with a dab of tinted lip balm or light rose coloured gloss. 30 seconds.
By Kim England
Clockwise from top:
Laura Mercier Tinted Moisturizer   www.bergdorfgoodman.com
Cargo Water Resistant Bronzer   www.beauty.com
Shiseido Eyelash Curler   www.nordstrom.com
Maybelline Great Lash Mascara  www.target.com
Polka Dot Swarovski Crystal Slant Dot Tweezer  www.tweezerman.com
Nars Eyebrow Pencil, Jodhpur  www.beauty.com
M.A.C. Mineralize Concealer   www.bloomingdales.com