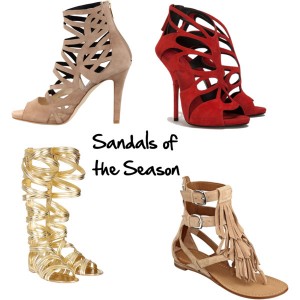 Well it seems as though Spring has finally sprung. Here's a round up of 5 key fashion trends for Spring 2013. Which ones are you excited to try out?
Caged or Gladiator sandals
If you're looking for a shoe that gets noticed, look no further. More adventurous and … than in previous years, most versions lace or buckle up on your ankle – some cover the entire calf! Do try to match the weight of the shoe to your leg. A caged sandal with thick straps, for example, can look clunky and inelegant on a slim leg. Likewise a dainty gladiator on a heavier leg can look strikingly out of proportion. There is a version for everyone. If you are interested in this trend, try on a few pairs in a full length mirror to find the most appropriate pair.
Crop tops
If you've been working out diligently this winter, this trend is for you. More modest than in previous instalments, this time around many cropped tops are being worn with high waisted skirts or pants. Not just for nightclubs and 20-somethings, actress Diane Kruger has been doing a fantastic job of wearing crop tops in a fashionable yet polished and ladylike manner. Google a few of her looks before you write off trying this trend.
Global Prints
Take inspiration from lands far and wide to inform your spring wardrobe choices. If you are hesitant about this look, try introducing one piece at a time – pair a printed skirt with a neutral top, for instance. For those more comfortable with this trend, go for a full on printed dress or mix and match a few prints for a look that is completely on trend.
Leather
Now available in lighter weights, bright colours and featuring skin-baring cut outs, leather has turned into a real all season fabric. Available in styles for all lifestyles – from bohemian to corporate – why not add a dash of leather to your wardrobe this spring. Baby steps can be made by trying an item with leather trim, elbow patches or a collar. Leather was very prevalent on the runways for Fall 2013, so rest assured, if you love the leather piece you're buying, you are guaranteed to get great mileage out of it.
Stripes
More is more this season. Mix bold stripes with fine ones and everything in between. Keep in mind, horizontal stripes can make you look wider while vertical stripes are generally good for looking long and lean.
By Kim England
Clockwise from top
Giuseppe Zanotti Butterfly Cage sandal www.intermixonline.com
GUESS Barin Fringed gladiator sandal www.guess.com" www.guess.com
Ginavito Rossi Gold-tone Lame leather gladiator sandals www.montaingemarket.com
Jimmy Choo Verdict Suede cage sandal www.bergdorfgoodman.com