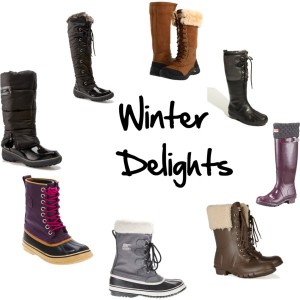 Winter is officially here and along with the shorter days comes snow, slush and sub-zero temperatures. While many people dread the coming months, I urge you to find an activity you can enjoy even (or maybe only) when the temperature dips. The first tip for enjoying winter and winter activities is making sure you're dressed for it! You wouldn't enjoy July very much if you ventured out in snow pants so apply the same principle to winter dressing and be prepared.
One accessory that makes a huge difference at this time of year is your footwear. I recommend something warm, waterproof and stylish to do the job. There are many brands out there creating durable winter boots. Four brands that I think are designing great looking functional boots are Ugg Australia, Hunter, Sorel and Cougar.
Ugg Australia skyrocketed to fame with their classic boots (which really feel like slippers!) which are super comfortable (like slippers!) but not so great at holding up against snow and sleet.
For inclement weather, I absolutely love their Tall Adirondack boot. They provide the same walking on a cloud feel but offer a waterproof outer shell and rugged sole that this time of year demands.
These boots are a little on the pricey side but they are a classic boot that is stylish, waterproof and warm!
If you walk to work, a pair of these will easily give you great return on your investment.
Hunters are a great option all year round. If you opt for the traditional wellie – extend their life by simply inserting a fleece or cable knit sock for wintry weather and removing it for the rest of the year. These are another investment you can't go wrong with. This year I wore my Hunters during each season. Available in a variety of colours, they make rainy days fun.
If you have a fuller calf, check out the Huntress – the traditional wellington with a more generous cut. Puddles will never look the same!
Sorels have been around since the early 60's. Another easily recognizable brand, the majority of Sorel's are on the chunky side making them a favourite among men and a stylish weekend option.
Established in 1976, Cougar is a Canadian company whose boots were wildly popular years ago and, this year, have made a bit of a comeback. With cool styles and a waterproof guarantee its no wonder people are flocking back to this brand.
Clockwise from top:
Ugg Tall Adirondack "http://www.zappos.com" www.zappos.com
Ugg Australia Belcloud "http://www.nordstrom.com" www.nordstrom.com
Hunter Boot Fleece Cuff "http://www.nordstrom.com" www.nordstrom.com
Hunter Adley Shearling Trim "http://www.netaporter.com" www.netaporter.com
Sorel Winter Carnival "http://www.jades24.com" www.jades24.com
By Kim England