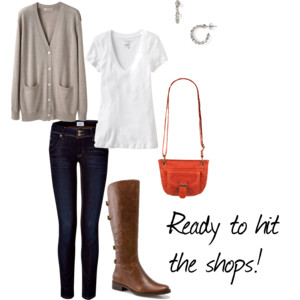 Braving the crowds on Dec 26th? By Kim England.
Here's what to wear:
The key to a successful shopping trip, and most great outfits, is comfort. On Boxing Day, you can expect to encounter crowds and long line-ups. You want to be focusing on the great deals, not your aching shoulders or feet.
When you are inside a shopping mall bundled up in your winter gear, you can get very hot (and uncomfortable!) very quickly. Most shopping malls have lockers where for a small fee you can stash your coat and gloves and feel less encumbered as you go about your day.
The ideal purse style for a marathon shopping trip is cross-body. This sporty style leaves your hands free to grab at great deals instead of constantly readjusting your handbag. Ever notice that your over the shoulder bag tends to mysteriously put on weight from time to time? I find that this issue is largely eliminated with the cross-body as they usually don't have the size to accommodate random items.
A flat boot is key as they are easy to slip on and off when trying on shoes yet comfortable enough for you to be on your feet all day long. Bonus: they'll keep your feet dry when you accidentally step in a puddle that you didn't see because you were gazing at all of the sales signs!
The clean lines of a skinny jean or legging tucked into a boot are great for navigating the mall. I recommend pairing them with a simple white t-shirt and a cardigan. If change-room line-ups are long, you can always whip off your topper and try on something over your t-shirt.
It's best to keep jewellery to a minimum. A simple earring will do and won't distract from anything you try on.
Of course you can always scrap this list and shop online in the comfort of your favourite pj's!
Reminder: Do a quick audit of your wardrobe before you head out. That way, you can spot a deal that is truly great for you from a mile away.
Happy Shopping!
By Kim England
Cardigan – www.lagarconne.co
T-shirt – www.oldnavy.com
Hudson jean – www.shopbop.com
Coconuts Becky Riding Boot – www.dsw.com
Woven pocket crossbody – www.tillys.com
Earrings – www.bloomingdales.com