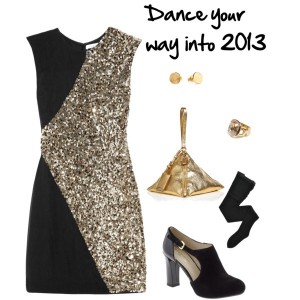 Continuing our trend of dressing for holiday events, I have dedicated an entire post to New Year's Eve. No matter your plans, I've got the guide to help you kick off 2013 in high style.
Dinner
Comfort and style are key when getting dressed. Enter 2013 on a fabulous note by putting a capital "S" on Style and planning an outfit with a little more oomph than your normal attire. A fitted blazer over slim pants is a great low key yet chic look. Add some bling with a fun brooch or statement bracelet. As you will spend the majority of the evening sitting, why not wear that pair of outrageous shoes in your closet (we all have them) that have style for miles even though you probably can't walk for miles in them.
Dance Party
Expecting to dance your way into 2013? To ensure you can endure maximum time on the dance floor (what better place to burn off those Christmas indulgences?), start your outfit planning from the bottom up. For this night, skip the stilettos and instead pull on a pair of platform booties with a mid level heel. From there, add opaque tights and a fun short sparkly dress. To carry your essentials, ditch your handbag and pick up a wristlet. With just enough space for your car keys, credit card and lip gloss, it's all you really need.
Black Tie
Select a figure skimming dress in a heavier or more structured fabric as it will smooth over your curves instead of highlighting your choice to lounge in your pjs rather than hit the gym this season. Keep your sparkle to your accessories. Tired of black? Get a jump on 2013's trends by wearing a gown in emerald green, Pantone's recently announced colour of the year.
Outdoor event
Here's hoping that this New Year's breaks from the usual tradition of being the (seemingly at least) coldest night of the year. In case the elements are not on your side, remember that layering is key. In addition to a warm coat, keep your extremities warm with ear muffs or a stylish hat that covers your ears, gloves and a scarf. For a hit of style, snuggle into an infinity scarf. Flat riding boots will keep your mind off of your feet and on the festivities around you.
By Kim England
Clockwise from top:
Gorjana Chloe stud earrings www.piperlime.gap.com
Champagne Cocktail ring www.baublebar.com
Jil Sander Gold Pyramid wristlet www.stylebop.com
FOGAL 520 Una Opaque tights www.pret-a-beaute.com
Naturalizer Haberton booties www.piperlime.gap.com
Rachel Gilbert Dexina sequin mini dress www.theoutnet.com