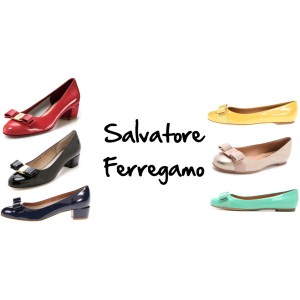 If you haven't picked up that something special for mom just yet – here is an idea. Italian luxury brand Ferregamo is celebrating the 35th anniversary of its iconic Vara pump. To celebrate, they have launched L'Icona (icona.ferregamo.com), an innovative online project curated and art directed by fine art photographer Claiborne Swanson Frank. The site features 21 trendsetters, among them Olivia Palermo, Lauren Santo Domingo and Lake Bell, styled to perfection in their own Vara's. The portrait collection captures perfectly the Vara's versatility and elegance. Once inspired by the portraits and accompanying video, visitors to the site are able to customize their very own pair of Varas.
A low-heeled pump with a stiff grosgrain ribbon and metallic disk, the Vara and its cousin the Varina ballet flat, are as appropriate today as they were in 1978 when they were introduced by Salvatore Ferregamo's daughter Fiamma. One of those rare items that can be equally as stylish on twenty-somethings and great-grandmothers alike, the Vara has been worn by such notable figures as Marilyn Monroe, Margaret Thatcher and Princess Diana.
On the new website, shoppers can customize the colour of the bow, body of the shoe, heel and hardware. If that isn't enough personalization for you, as an added bonus, you can even get your initials carved on a metal plaque affixed to the sole of your shoe.
"I think that exclusivity is very important in fashion," said James Ferragamo, Director of Womens Leather Products. "Today fashion is much more about doing something that is only for you rather than something that is for the masses."
In 1923, Salvatore Ferregamo set up the Hollywood Boot Shop in California and quickly established a name for himself as the shoemaker to the stars. Frustrated that his creations were pleasing to the eye yet uncomfortable, he went back to school to study anatomy. In 1927 he returned to Italy and set up a workshop in Florence. Notable creations include the wedge and stiletto heels. Today the name Ferregamo is synonymous with luxury and style. Still headquartered in Florence, the brand has over 550 shops worldwide and 2600 employees.
By Kim England
l-column
www.bloomingdales.com
www.shopbop.com
www.couture.zappos.com
r-column
www.couture.zappos.com
www.shopbop.com
www.shopbop.com