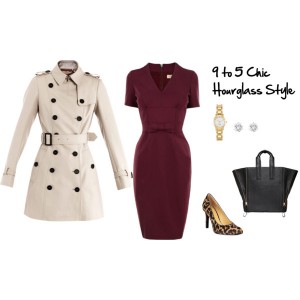 This is the fifth and final instalment in the dress your body type series. If you're unsure of your type, read through the first paragraph of each post and go with the description that fits you best.
You're an hourglass if your hips are the same width as your shoulders and you have a defined waist. You are generally curvy all over with generous thighs as well as a fuller hip and bust. Your weight tends to be distributed fairly evenly between your upper and lower body. Contrary to popular belief, many hourglasses can have difficulty finding clothes that fit well. As a coping mechanism, many wind up wearing loose fitting or boxy garments that hide their curves and end up looking heavier than they truly are. Celebrity hourglasses include Halle Berry, Salma Hayek, Scarlett Johansson, and Christina Hendricks
Tops:
Silky and flowing fabrics compliment you best as they will highlight your shape by grazing over it. Structured shirts will work as well provided they have some stretch to them. V shaped and scoop necklines will look great on you in almost any instance. Wrap tops and mock wraps are also flattering as t hey provide a v neckline and emphasize your defined waistline. If you are generously endowed, a high neckline (turtleneck, mandarin collar, etc) may not be the most flattering look on you. Instead of tossing your turtlenecks, try pairing them with a vest or jacket in order to create the coveted v neckline. While cozy, beware of shapeless tops that hide your waistline (and, therefore, your shape) as they can make you look significantly heavier than you are. If you would like to wear a tunic or boxier style of garment, ensure that the fit around the shoulders is immaculate.
Jackets
Hourglasses can wear a variety of styles and lengths when it comes to jackets. A no fail look is the tailored jacket.
Pants
To balance your shape, boot cut pants are the most flattering. Similar to pear shaped women, it is common for hourglass ladies to have difficulty finding pants that fit both the hips and waist. In this instance, always fit the hips and get the waist altered to fit. While it can be a bit more time consuming, nothing looks better than clothing perfectly altered to your shape. Skinnies or straight leg pants can also look great with a hip length tunic or top.
Dresses
The easiest go-to for hourglasses, dresses are made for your shape. A fit and flare style is a no fail for you.
Accessories
A belt is a great go to accessory for hourglasses. Wear them over shirts or jackets to define your waist.
By Kim England
Burberry London Corset Jersey Bow Front Dress www.flannelsfashion.com
Kate Spade Grammercy mini watch www.nordstrom.com
Betteridge Collection brilliant diamond stud earrings www.betteridge.com
3.1 Phillip Lim Pashli Large tote www.lagarconne.com
Nine West Caress pump www.ninewest.com
Burberry Prorsum cotton trench coat www.matchesfashion.com