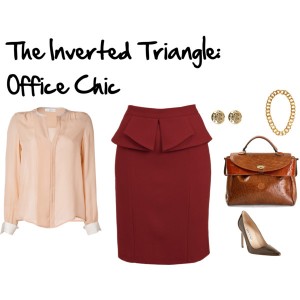 Dressing the Inverted Triangle:
The inverted triangle is typically characterized by broad shoulders, a tapered waist and narrow hips. Similar to a swimmer's body, limbs are relatively slim and the legs, in particular, tend to be well defined. All of this combines to give inverted triangles an enviable strong and fit look. Many of today's catwalk models and several celebrities are inverted triangles namely Demi Moore, Teri Hatcher and Naomi Campbell.
General rule of thumb:
One popular tactic for dressing the inverted triangle is to add softness to the upper body while creating volume on the lower half.
Tops
While you may have wonderfully toned shoulders and arms, highlighting them with a spaghetti strap will serve to emphasize their width in comparison to your hips. When showing off your shoulders, opt for a wider strap that will visually shorten the width of your upper body or try a strapless option – another flattering look for inverted triangles. Instead of a boat neckline, both v-necks and cowl necks will serve you well as they are champions at elongating the torso. When selecting a cardigan, a v-neck version is your best bet as it will be elongating whether worn buttoned up or open. Instead of parting with your round neck cardigans, simply wear them open for the same elongating effect. A wrap top or faux wrap top can also be flattering by calling attention to your waistline.
Tops, in general, should be fuss free. For the most elongating impact, avoid ruffles, shoulder pads and shoulder details. Pairing a light hued top with a darker bottom is also a winning combination.
Pants
Lucky you! Your narrow hips and legs can carry off a wide variety of pant styles beautifully. As we're looking to add volume on the bottom, cargo pockets, wide leg pants and bright hues will all be stunners. While most women tend to gravitate towards dark denim, you can have some fun with faded versions as well. A pair of white jeans should be a staple in your summer wardrobe.
Skirts
A-line or full pleated skirts will fit you wonderfully. Other styles to experiment with include peplum, tulip and full volume maxi skirts. You also can handle heavy textures such as tweed or stiff cottons as they will also add some flattering volume to your lower half.
By Kim England
From l-r
Day Birger et Mikkelsen Nude Silk Trinity Blouse www.stylebop.com
Miss Selfridge peplum skirt www.missselfridge.com
Karen Millen Crystal Sparkle Stud www.karenmillen.com
Vintage Fendi Stachel www.etsy.com
Manolo Blahnik pump www.barneys.com
Kenneth Jay Lane 22-carat gold plated necklace www.net-a-porter.com