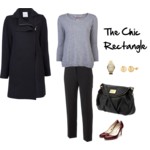 Hi Rectangle! Long and lean, you are well proportioned and athletic looking with slim limbs and little waist definition. Your shoulders, waist and hip width are similar. Many celebrities known for their style and enviable frames are rectangles. Shape mates of yours include Cameron Diaz, Hillary Duff and Nicole Kidman.
Two of the most flattering ways to dress the rectangle are 1) to emphasize your shape and 2) to create curves.
Tops
To emphasize your shape, try a halter neckline. This type of top celebrates your shape by highlighting your back, shoulders and arms. Halter necklines are off limits for most busty women but extremely flattering to the rectangle`s frame. Another way to emphasize your frame is by wearing clean lines – a clean scoop neck shell or button down shirt will look fabulous on almost any rectangle. To create curves, opt for tops with detail around the neckline. Details give the suggestion of fullness and make the waist look smaller by comparison.
Jackets
Most jacket lengths will work on your frame. Again, to flow with your natural shape, select one with few details or texture. To create curves, select one with a nipped in waist which will give the illusion of fuller hips and an hourglass shape.
Pants
Rectangles can have a field day when it comes to selecting pants. To play up your shape, try a slim cut. A current item that will look fantastic on you is a pair of ankle length slim pants or jeans a la Audrey Hepburn. To create curves, try a boot cut style as the slightly wider hem will give the illusion of fullness. The denim world is your oyster. This season, I recommend adding a coloured pair as they will give some dimension to your lower half. Your slim legs are perfect for carrying off pants with details i.e. cargo pants, zippers, faded denim, etc.
Skirts
A line, tulip shapes and peplums will create curves where you don't naturally have them. Look for skirts in bright colours or a print for additional dimension.
A great accessory to experiment with is a belt. Use them to define your waist in a dress or over a shapeless blouse.
By Kim England
Clockwise from top:
Dear Cashmere A Line cashmere sweater
Michael Kors Mercer watch
IBB 9ct gold Spanish ball earring
Marc by Marc Jacobs Classic Q
Rupert Sanderson Red Blade mid heel pumps
Jennifer Lopez ankle length trouser
Costume National pea coat