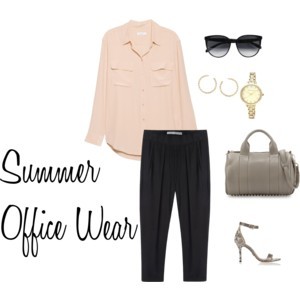 Happy summer! Let's take a quick break from basking in the bliss of summertime to reassess our work wardrobes.
Flip flops? Spaghetti straps? Hopefully you haven't committed any of these transgressions in the office but, even if you have, there is a lot of time left to regroup this season.
It can be tricky to look professional and current when it is sweltering outside. Sometimes we get dressed thinking of our fun after-work plans rather than the 8 office-bound hours right in front of us.
We are in the midst of sale season so if your work wardrobe is in need of an upgrade, now is a fantastic time to pick up some great pieces. Here are my suggestions to add to your shopping list.
Play pretend:
While you may feel like going to work in a sleeveless top or mini skirt, those items are not appropriate for most professional offices. Cage detailing has been huge this season. From skirts and shirts to shoes – cage details have shown up everywhere. Believe it or not, by adding extra details and fabric, these items can give the illusion of wearing less in an appropriate manner.
Now you see me, now you don't
Another trick designers have bee using to give the illusion of more skin is playing with lucite. This clear plastic has shown up this season in places like shoe straps, purses and bangles. The addition of lucite to your wardrobe, in moderation, can lend an airy, beach like vibe.
Shirt dress
Summer dressing really gets no easier than a shirt dress. Available in a plethora of fabrics and prints, a shirt dress can take you from day to evening. My suggestion: do a sit test in the change room to ensure you're properly covered.
Be a slouch
Slouchy pants in a great fabric are a great way to introduce easy summer living into your professional wardrobe. Been spending more summer evenings at the local ice cream parlour than the gym? These pants will keep your secret safe. Pair them with a pair of streamlined heels to keep the look work appropriate.
Happy Shopping!
By Kim England
Clockwise from top:
Celine Thin Mary suglasses lindelepalais.com
BCBG Max Azria Chain Hoop earrings bcbg.com
Anne Klein Gold Tone Thin bracelet watch amazon.com
Alexander Wang Rocco stud satchel bag neimanmarcus.com
Michael Kors Natasia sandals net-a-porter.com
Raquel Allegra Slub Silk easy pant lagarconne.com
Equipment signature blouse ahalife.com