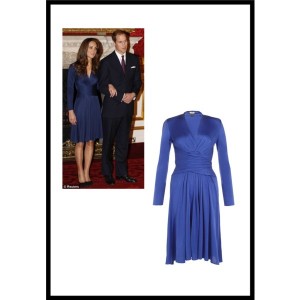 An exciting new collaboration has recently been announced. Issa, the London-based brand made famous by Kate Middleton, has collaborated with Banana Republic on a limited edition capsule collection.
The 40-piece collection will hit stores on August 6 and is said to be inspired by Banana Republic's safari heritage and "the spirit of exotic journey".
"We always love animal prints such as zebra and giraffe stripes," Simon Kneen, Banana Republic's creative director and executive vice president of design told Women's Wear Daily. "Issa took that and modernized it. I love that the collection is our world and their world."
Known for their ladylike styles, Issa is carried in many well known North American outposts such as Blomingdale's and Nordstrom. Typically, their day dresses retail for $350-700. The Banana Republic collaboration will open Issa up to a larger audience of women looking to inject a bit of the duchess' style into their wardrobes. The collection will be offered at a lower price point than usual for the London-based brand – $39.50 for a bangle up to $150 for a dress or tote (all figures USD).
"Issa London's effortlessly chic style complements our global Banana Republic consumer who is on the go and needs to transition her look seamlessly from day to night," said Kneen.
Most in the world were first introduced to Issa when Kate Middleton wore one of their blue silk jersey wrap-style dresses at her official engagement announcement in November 2010. The line, founded by Brazilian Daniella Helayel in 2003, was a long time favourite of both Middleton sisters yet the sudden international exposure was unexpected. The explosive demand for the duchess' dress and others like it almost crippled the company as its skeleton staff could not keep up with the demand.
The Banana Republic Issa London collection will feature kimono-sleeved and wrap-tie dresses, jewelry, patterned scarves and envelope clutches in solid colors as well as zebra and leopard prints. Keep your eyes peeled for a zebra-print kimono sleeved dress – rumour has it that it is expected to be one of the collection's most coveted pieces.
By Kim England
Pictured:
Issa Royal Engagement Wrap Dress – www.harrods.com