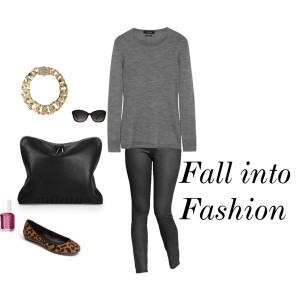 Fall is definitely my favourite season for fashion. For those who need a bit of a refresher on the Fall 2013 runways, this post is for you. Below is my round up of some of the most wearable trends for this season.
Leather
A classic trend, leather is everywhere this season. While leather jackets, pants and skirts are still hot ticket items, what's fresh this season is coloured leather and leather mixed with various fabrics. Look for tops, dresses and skirts in rich oxblood or mossy autumn green. In terms of fabric mixing, a common look this season will be leather sleeves on cardigans, trench coats and everything in between. Burberry rocketed this trend to the forefront of style a few seasons ago with their cotton gabardine trench coat that featured leather sleeves. True to designer form, with its classic styling mixed with funky moto details, the coat is as current today as it was a few years ago when they launched it. For a less expensive but still current look, premium and bargain designers alike have introduced waxed denim in a big way this season. For the most current styles, look for skinny fits and moto details.
Winter White
Again, another recycled trend, this season, it seemed as though designers were really trying to hammer home that there is no need to shy away from white after Labour Day. Head to toe white was glaringly apparent on several fall runways. In this case, more is more. Put away your summer whites as fall calls for heartier fabrics. If you are uncertain about the head to toe look, easy ways to embrace the trend include incorporating a white blazer, skirt or nail polish colour into your look.
Fit and Flare
There was quite a celebration of the hourglass shape on the fall 2013 runways. For those that have one, or those who would like to, this trend is for you. Look for tops and jackets with nipped in waists and full skirts. If you would like to recycle an item already in your wardrobe such as a cardigan or dress, try belting it in order to accentuate your waist. Unless you are blessed with super long legs, heels are a must for pulling off this trend.
By Kim England
Isabel Marant pillow fine knit merino wool top www.net-a-porter.com
The Rockstar coated wash denim www.oldnavy.gap.com
Dolce Vita Bex flat www.nordstrom.com
Essie Recessionista www.austique.co.uk
3.1 Phillip Lim Ryder 31 Minute medium clutch www.saksfifthavenue.com
Michael Kors Melissa sunglasses www.marissacollections.com
AllSaints Valtari necklace www.allsaints.com