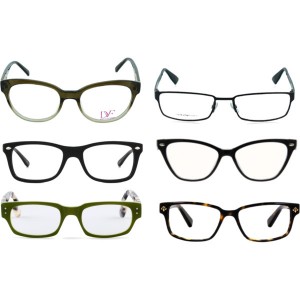 Do you wear eye glasses on a regular basis? If so, I'm sure you're thrilled with how contemporary and stylish frames have gotten over the years. Glasses have become such a stylish accessory, in fact, that people with perfect vision are now donning versions with clear glass just so they too can take part in this trend. Much like your hairstyle – whether they are dynamite or drab – your glasses say a lot about you and can make or break your entire look. If you are looking to buy a new pair of frames, here are some tips for choosing a flattering pair:
Proportion is key
A larger person with large features can handle thick frames better than someone who is petite with dainty features. When trying on your frames, look at yourself in a full-length mirror. That way, you will get a more accurate sense of whether or not the frames complement your body overall. When others look at you, after all, your entire frame is what they are seeing and responding to.
Try on several types
As with clothing, frames can look different on the shelf than they do on your face. Try on a variety of styles to see which ones perk you up. I guarantee, at least one pair you were not expecting to look great will make its way into at least your 'maybe' pile.
The eyes have it
Ensure that your eyes are centered in the frames. If the centre of the glass covers your cheeks, for example, the end result can be droopy and uninspiring. This isn't a hard and fast rule, but if you are unsure about selecting the right pair of frames, be sure to keep your eyes more or less centered in the frames.
Enlist a second opinion
As all sales people are not created equal, similar to clothes shopping, I recommend bringing along a stylish friend whose opinion you trust. Another great option is to snap pics of yourself in a few of your favourite frames. This purchase, after all, is something you probably will be wearing at least a few times a week if not every day. Take a night to sleep on it. The following day, go over your photos with fresh eyes and select the frames you think look best.
By Kim England
Left column:
Diane Von Fursterberg www.glassesusa.com
Ray Ban RX5228 : www.glasses.com
C. Wonder Rockrose Eyeglasses: www.cwonder.com
Right column:
Emporio Armani www.glassesusa.com
Zenni Optical: www.zennioptical.com
Affliction Drago:www.glasses.com