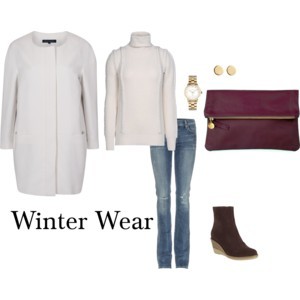 Its that time of year when we are all a little tired of our winter wear. Just in the knick of time – enter New York Fashion Week. Right now, fashion insiders are slogging their way through snow, slush and sleet to make their way to the fashion tents all while looking fabulous. While checking out coverage of the shows, I couldn't help but also check out what these ladies are wearing. Here are some tips I have picked up for sprucing up our winter wear. We have a few weeks of winter left, let's make the best of it!
In the Clutch
Next time you head out for dinner or a coffee meet up, instead of schlepping your trusty carry-all bag, pop you're necessities into an eye-catching clutch. Spotted tucked under the arm of many fashion-week goers are adorable clutches with cute sayings in metallics and eye-popping colours.
Escape into Your Own World
Whether you are commuting to work or if you just like working to a beat, do like Marie Claire writer Nausheen Shah and try on a pair of funky headphones. If you are serious about your music, this may be a great investment for you. Try out cult favourites Beats by Dre, Frends, or DJ Slims for headphones with amazing sound quality and equally impressive style.
Winter White
Move the black and grey to the side and make some room for winter white. White on white is a trend that is, well, white hot right now but if you would rather take baby steps try one white piece at a time – say, a great cable knit sweater or a white overcoat. Stand out from the crowd of black puffer jackets with a this sharp option. If you're a little timid but interested in branching out, try pieces in lighter shades like camel or khaki.
Leather Leggings
Spruce up your regular black leggings or skinny jeans by swapping them out with a pair of leather leggings. Super versatile, leather leggings can be paired with anything from sneakers to pumps and worn out to run errands or for a dinner date.
Colourful beanie
The brighter the better! Bring the sunshine with you wherever you go.
Happy Shopping!
Kim England