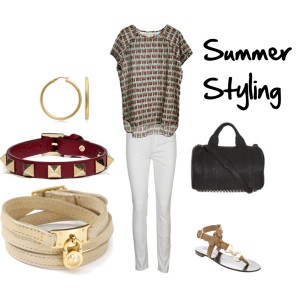 A few trends have definitely taken centre stage this season. Here are a few of my favourites:
Candy Coloured Everything
Neon is still having a huge resurgence this season. The popularity of these eye-popping shades will continue through the fall and winter. Look for candy coloured pumps and flats as well as brightly coloured separates to carry you into the next season. Slightly more subtle than their electric counterparts, pastels are also very much in style this season. If you are cautious about jumping into neons, pastels offer a safe and stylish bridging point. If doing pastels, mint green is the shade to look out for this season.
Leather
Leather is always big for fall and winter but it is having a bit of a moment this season. For a more casual look, leather leggings are still in a great look. If you are looking to pick up any new pieces, definitely check out something in leather or with leather accents such as a dress or blazer. Also to look out for is coloured leather – oxblood is shaping up to be a great hue for next season. If your pocketbook is a little tight, try a leather bracelet or check out H&M's leatherette selection – the pieces are stylish and well designed.
Studs
Studded items add a touch of biker chic glam to any outfit. Embellished accessories have been in style for a few seasons now and they seem to be sticking around for at least the next season. For summer, the studs have migrated to shoes and clothing. With this style, remember, less is more. I recommend sticking to a maximum of two studded items per outfit.
Small Prints
Seen in everything from animals to stars, hearts and skulls, small prints are definitely in vogue this season. Available in every item of clothing, I recommend picking up a printed blouse that can be worn both casually and to the office.
Stripes
Always in style, stripes look particularly fresh in the summer. Striped blazers, maxi dresses and long sleeved tees will serve you well right into next season.
By Kim England
Blue Nile hoop earrings in 14K gold www.bluenile.com
Heartmade cotton silk blouse www.musthaves.dk
Alexander Wang black Rocco bag www.montaignemarket.com
Giuseppe Zanotti flat buckled sandal www.farfetch.com
Filipi slim jeans www.bestseller.com
MICHAEL Michael Kors MK leather wrap bracelet www.bloomingdales.com
Valentino Barolo Rockstar bracelet www.stylebop.com