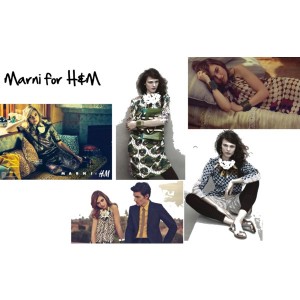 H&M is set to launch another stellar collaboration this time with Italian design house Marni.
Marni is a line often raved about by high fashion editors but largely ignored or misunderstood by the masses. That's all set to change on March 8th when the lively collection bounces into H&M stores worldwide. Designed by Marni's founder Consuelo Castigioni, the line for H&M includes womenswear, menswear, jewelry, shoes, bags, and scarves.
Beloved by fashionistas worldwide, the traditional Marni look can be a bit overwhelming to digest for the more casual fashion observer as a typical collection will include clashing print and pattern, colour blocking, bejewelling and plastic accessories. For H&M, Castiglioni has curated a line chock full of tribal prints juxtaposed with colourful graphics.
"I wanted to create a true Marni wardrobe by revisiting all our favorite pieces in signature fabrics and prints," explains Castiglioni. "As always, I love juxtaposing prints and colors, mixing modern tribal with Bauhaus graphic adding sporty utilitarian elements."
Marni's press release about the collaboration reports the following, "For women, the colors are vivid and the prints are bold, be they African inspired or simpler color blocks. The silhouettes are all Marni staples, with full pleated skirts, dresses, cropped trousers and jacquard knit, and fabrics range from silk to crisp cotton poplin. For men, the colors and fabrics are softened for a relaxed take on menswear staples that is truly Marni. The use of print is subtle, often as a lining or as a contrast detail for shirts, the silhouette a modern and relaxed take on masculine classics."
Launched in 1994, Marni is very much a family business not unlike Versace and Missoni. Castiglioni's husband Gianni serves as company CEO and daughter Carolina operates the online store. Having already expanded into the realms of menswear (2002) and eyewear, the fashion house has recently debuted its first children's line for Fall 2012. Often described as quirky and artsy, celebrities who have been spotted in Marni include Julia Roberts, Diane Kruger and Kirsten Dunst.
Ladies and gentlemen, get your sleeping bags ready. I have a feeling this line is going to fly off the shelves in record time.