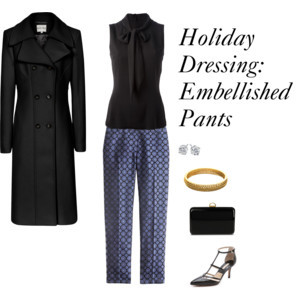 When it comes to holiday dressing, many of us rely on our little black dress and some sparkly accessories. If you are looking to spruce up your holiday party attire, I recommend investing in some separates. Easy to mix and match, separates can take you through the holidays and beyond. Below are some tips for holiday dressing that will take you the extra mile.
Black blazer
A staple of many a wardrobe, a black blazer can be reinvented in countless ways. For the holiday season, pair it with everything from your favourite LBD to a pair of jeans, depending on the occasion. To add some depth to your outfit, try a version in a fun fabric like silk, velvet or a leather/fabric combo. Kick things up a notch by affixing a sparkly brooch over the button. While the brooch will add some oomph to any outfit, this is a simple way to add interest to an all black look if you are, otherwise, playing it safe.
Fancy pants
Championed by J.Crew's style queen, Jenna Lyons, embellished pants have become a mainstay for holiday dressing. The most universally flattering cuts tend to hit at the ankle, but by all means, have a little fun in the dressing room and see what works best for you. If you aren't a pattern mixing maestro like Ms. Lyons, the easiest item to pair with embellished pants is a white button down shirt. Other options include a blazer, cardigan or plain black turtleneck. Add some simple pumps and let your fancy pants steal the show.
Jumpsuit
For those looking to purchase more of a statement piece, a jumpsuit may be up your alley. Similar to a dress, a jumpsuit is a one piece outfit that requires little thought when getting dressed – one piece and you're done! Available in versions ranging from spaghetti straps to full sleeves, be sure to keep your accessories to a minimum in order to let the jumpsuit take centre stage.
Black pantsuit
A great investment as it can be worn as a suit or separate – perfect for taking you through the holiday season and beyond. If you are looking for strictly a holiday look, a suit with a little shine to it will be most appropriate. Flattering on most figures, finding the right fit may take you some time. Don't be frustrated if things don't seem to fit off the rack. Head to your local seamstress and have it tailored. Whether you're shopping at H&M or Holt Renfrew, having your clothing tailored to fit you perfectly will make any item look significantly more expensive than it really is.
Happy Holidays!
by Kim England
Clockwise from top:
Dolce & Gabanna sleeveless pussy bow blouse, www.fafetch.com
1/4 carat diamond stud earrings, www.jcpenny.com
Vintage Chanel gold bracelet
Sergio Rossi Miaudiere box clutch, www.sergiorossi.com
Michael Kors Sahar T-Strap, www.shopbop.com
J.Crew Cafe Collection Capri in Tie Silk, www.jcrew.com
Reiss Board Large Collar Coat, www.reiss.com