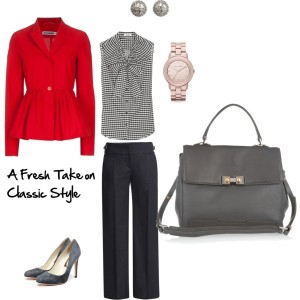 You've polished up your resume and found a dream job posting. At the interview, you want to be focused on selling yourself and your accomplishments. Many people are so confident in their skills that their clothes are an afterthought. As I have said before, when you look great, you feel great. The increased confidence you exude when you are confident in your appearance will only translate positively to the recruiter across the interview table.
If possible, assemble your interview outfit as you start applying for positions. When you've actually secured an interview, you'll want to spend your time preparing and taking care of yourself, not anxiously hitting the shopping mall for an outfit.
Grooming
No matter how funky the office, I recommend a neutral manicure for your first impression. Nails should be short and painted with polish that is either clear, a pale pink or beige. As many offices are now declaring themselves scent-free zones, refrain from wearing your favourite perfume or heavily scented lotion until you get the lay of the land. No matter how brilliant or well suited for the role you are, if your scent is giving the recruiter a headache, you can't possibly make a good impression.
Accessories
Accessories should be kept to a minimum. A watch and simple earrings is sufficient. Charm bracelets are very on trend, but generally too noisy and distracting for an interview. Your handbag should be current and unfussy.
Suiting
If you prefer and/or your profession calls for it, there are many great modern interpretations of the traditional pantsuit. If the pantsuit has a matching skirt or dress, I recommend picking them up as well. You will get a significant amount of mileage out of your wardrobe just by the added outfit combinations they provide. To maximize your investment, ensure that you can wear each piece separately. Traditionally it is suggested that your suit should cost 1% of your annual income (or desired annual income).
Contemporary Wear
If your profession allows, there are many great alternative to an interview suit. A cardigan, knit shell and pencil skirt can look appropriately pulled together and professional. If you are applying for a job in a creative field you can wear larger accessories and be more on trend. If you are not sure of the company's culture, the easiest route may be to play it safe with a base in a neutral or small print and introduce small splashes of colour and personality through a belt, bracelet, jacket, etc.
Good luck!
By Kim England