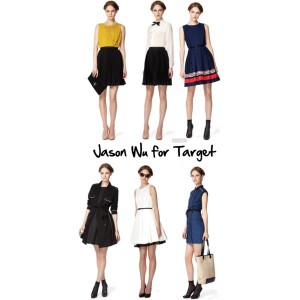 Sunday February 5th was a big day and not just for football fans.
Also marking the day on their calendars were frugal fashionistas eager to get their hands on the much anticipated Jason Wu line for Target.
The latest collaboration between high-end designer and real-world retailer has excited even the most casual fashion observer. Counting Michelle Obama as one of his clients, Wu's fame shot off the Richter scale when the fashionable first lady started wearing his creations in public. Wu was just 26 when she chose to wear his one shoulder, white chiffon gown to the presidential inaugural ball in 2009. In March of that same year, she appeared on the cover of Vogue in his magenta silk sheath and later selected one of his coats for her meeting with Queen Elizabeth.
Wu's 53-piece line for Target is exceptionally well priced with items ranging from $19.99 to $59.99. His main collection, sold at luxury department stores, ranges from a few hundred to a few thousand dollars.
"My goal was not to duplicate anything from my main collection," Wu explains. "Instead I designed completely new clothes and accessories that reflect my taste and have a voice of their own."
While Wu made a successful departure from his main collection, I'm happy to report that his line for Target still has the ladylike charms his fans have come to appreciate. The collection features blouses with peter pan collars, pleated skirts and nautical dresses. Equally as impressive are his luxe-looking handbags and accessories.
"I was inspired by the French New Wave films, actresses like Jean Seberg and Anna Karina," says Wu. "That nonchalant chic, that effortless style, mixed with American sportswear."
The last collaboration Target featured was with Italian fashion house Missoni. The collection sold out within hours and anxious shoppers managed to crash the retailer's website. While Target claims that they have learned from the experience, there are a few opportunists hoping that this is not the case. Before Wu's Target collection was available in stores, a few pieces appeared on Ebay with some items marked up as much as 250%. No doubt posted in the hopes that fearful shoppers would pounce at the opportunity to avoid store shortages.
Fun tip: There is a Canadian element to Jason Wu's story. In 1991, he and his family moved to Vancouver, British Columbia where he remained for a few years before leaving to study sculpture in Tokyo.
By Kim England
Photos via:
www.fashionrogue.com
www.dailymail.co.uk
www.thelookforless.com