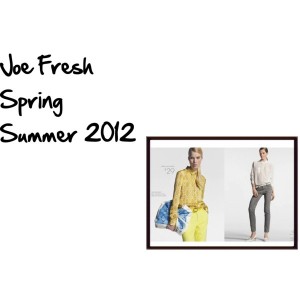 Canadian label Joe Fresh launched in 2006 and quickly developed a cult-like following. The collection's unique positioning within Loblaws grocery stores definitely gives it an edge. At first, there were some raised eyebrows at the thought of picking up a pair of jeans from the same store that you buy tomato sauce, but that was quickly overcome by the fashionable yet very wearable pieces. Every season, the line is chock full of stylish, well-made pieces at amazing price points. Busy parents took advantage of being able to buy clothing for their tots on their grocery run. Across Canada, the line is now offered in over 300 Loblaws locations and 12 stand alone shops.
Last year, Joe Fresh, led by its designer (and cofounder of Club Monaco) Joe Mimran, dipped a toe into the market south of the border by opening a stand alone store in midtown Manhattan. The anticipation of the shop drew over 100 eager fans to camp out over night in order to be first in line on opening day. To date, Joe Fresh has six stores across the New York area.
Emboldened by their success in New York, Joe Fresh plans on making an even bigger splash when they open 700 shops within JC Penney retailers across the United States.
The US move is a mutually beneficial one. Led by new CEO Ron Johnson, the man responsible for launching the iconic Apple stores, JC Penney is currently undertaking an $800 million revamp. It recently unveiled its new store design which features a shops-in-shops model. Sales have been lagging for the past few years and this new partnership with Joe Fresh will definitely up the department store's cool factor. For Mimran and Joe Fresh, the partnership means major exposure in the US market.
"Ron is looking for brands – he's looking to really differentiate himself in the United States," said Joe Fresh designer, Joe Mimran. "He's looking to transform the business and he wants to do it with innovation. I think our brand offers that."
Joe Fresh will be designing its own shops which will range in size from 1,000 to 2,500 square feet. Currently they plan to debut with women's apparel. Other collaborations featured in the revamped shops will be William Rast, Marchesa, Betsey Johnson, Cosmopolitan and Nanette Lepore
In May, Joe Fresh ranked as the top clothing brand in Canada, according to market researcher NPD. Analysts say the brand is close to generating $1-billion of sales a year, although Loblaw does not break out the figures.
By Kim England