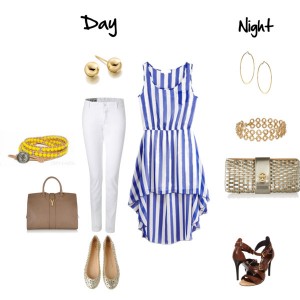 With summer temperatures spiking as of late, dressing in day to night wear can be tricky. For many, a weekday can involve commuting to work, spending the day in an overly air conditioned office, a friendly lunch, and drinks with friends or a dinner date. With a little bit of preparation and a few small changes throughout the day, to quote Carrie Bradshaw, you can arrive at each engagement looking "stunning and impossibly fresh-looking".
Any outfit can be changed from day to night simply by changing three accessories: your shoes, handbag and any piece of jewellery i.e. earrings, bracelet, or necklace.
The first step when selecting an outfit that can multitask is to ensure that its fabric travels well. Linen sheaths can be very chic, however, if you plan to wear one from day to night, by the time you're heading for dinner your outfit will have more wrinkles than a shar-pei. While you're outfit can have a percentage of linen in it, in my experience, a heavier weight cotton with stretch or silk can be more durable.
You would be hard pressed to find an easier item of clothing to dress up or down than a simple shift dress. Flats or mid level pumps during the day can be exchanged for higher heels or strappy sandals after hours. To make this exercise simpler, stick to a dress in a solid colour. It is much easier to mix and match accessories for a solid dress rather than one with a print.
While practical during the day, your tote bag will be a little cumbersome at dinner time so be sure to pop a clutch into it that can hold the essentials for your evening plans.
If your daytime look is generally conservative, simple jewellery can give way to flashier signature pieces for an edgier evening look should you prefer.
One final item to be mindful of is your makeup. By the end of the day, your morning makeup may look a little tired. To finish up your mini transformation, be sure to reapply your lipstick or gloss and freshen up your mascara.
For a little inspiration, I've put together two outfits possible with just a few quick changes.
By Kim England
Sleeveless Asymentric Hem dress www.romwe.com
Day
Astley Clarke Silhouettes yellow gold orb stud earrings www.astleyclarke.com
CLOSET white Winston pants www.stylebop.com
Gold ballet flats www.giuseppezanottidesign.com
Yves Saint Laurent Cabas Chyc large tote www.net-a-porter.com
Dirty Earth yellow lemon wrap bracelet www.pinterest.com
Night
Gold look knife edge hoops www.dorothyperkins.com
Blue Nile duet love knot bracelet www.bluenile.com
Tory Burch rattan and faux leather clutch www.net-a-porter.com
Burberry overdyed leather belted sandals www.couture.zappos.com