Rather save up for a vacation than splurge on the latest trendy item of clothing? Nail polish is one of the easiest and least expensive ways to keep your style au courant. It's also a low commitment way to express yourself and try something new. Just like clothing, nail polish companies have seasonal lines and many of them have cultivated cult like followings. Some of my favourite lines include Essie, Zoya and OPI. For added savings, check your local beauty supply store for polishes in sample or junior size which provide more than enough product and will typically run you only $3-4 each.
If you're looking to invest a bit more in your digits, check out lines like Butter London and Deborah Lippman. Lippman is a celebrity manicurist who has developed her own line of nail polish and specialty treatments for nails, hands and feet. Usually sold for about $20 per bottle, her line can be found across Canada at Holt Renfrew, Murale and select salons. Fun celebrity fact: Kate Winslet, Reese Witherspoon, Renee Zellweger and Penelope Cruz were all manicured by Deborah and wore nail polish from her collection when they accepted their Oscars.
Many celebrities are cashing in on the nail polish trend. Popular brand OPI is known for its collaborations with public figures. Rapper/singer Nicki Minaj is their most recent collaborator who developed a line of polishes as bright and distinctive as her zany outfits. For their sister brand, Nicole by OPI, reality tv's Kardashian clan put their stamp on a line of their own last fall.
While it's fun to keep up with the seasonal lines, don't worry, there's no chance you'll be out of style by wearing last season's nail colour. In Fall of 2010, Essie introduced a universally flattering grey polish called Chinchilly that immediately became the favourite of many. Almost 18 months later, the colour is still relevant and just as popular.
If your traditional manicure is not enough to satisfy you, there are many trends in nail polish finishes. The crackle/shatter finish is created by the application of a top coat over a normal layer of polish. The top coat shrinks when it dries to leave a shattered layer. The shattering leaves a pattern that allows the base coat to peek through. Most of the buzz around shatter polish was created when OPI and Katy Perry announced a collaboration that included a black shatter polish.
Other trends include painting your ring finger a different yet complimentary colour to your remaining eight fingers and sparkle polish for day and night.
Happy experimenting!
By Kim England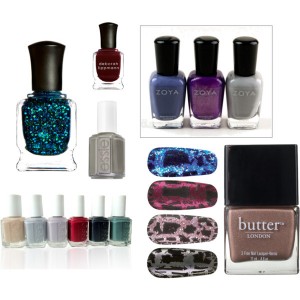 Clockwise from top:
Zoya "Intimate Collection" HYPERLINK "http://www.temptalia.com" www.temptalia.com
Butter London "All Hail the Queen" HYPERLINK "http://www.allure.com" www.allure.com