With all eyes on New York fashion week for its Spring 2013 presentation, you may have started to wonder what you can expect to find in shops this season. For fall, as they have for almost the past 20 years, Pantone, the global authority on colour, has surveyed fashion influencers such as Tracy Reese, Rebecca Minkoff and Tommy Hilfiger in order to determine the season's most important colour trends.
T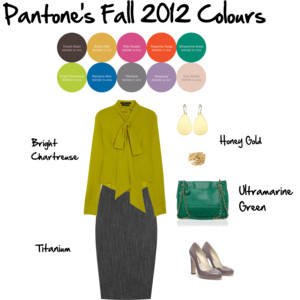 his season, they have come up with ten hues deemed to be the most prominent for autumn. The palette is a comfortable mix of darks, brights and neutrals and, overall, is quite cheerful and upbeat. In the diagram, the colours are as follows.
Top row, l-r: French roast, honey gold, pink flambé, tangerine tango and ultramarine green.
Bottom row l-r: Bright chartreuse, Olympian blue, titanium, rhapsody, rose smoke.
Pantone is followed by fashion and interior/home design companies. Look for these colours to pop up not just in your closet but also in your favourite home goods store.
 The only predictable shade in the bunch is French roast, a delicious brown that can act as a comfortable anchor to any of the other bright shades. While most of the colours are on trend for both men and women, three colours – rhapsody, rose smoke and pink flambé have been earmarked as on trend for women only.
 "By playing to consumers' practical side with versatile neutrals, and boosting their confidence with bold, spirited hues, this skillfully balanced palette has something for everyone," said Leatrice Eiseman, Executive Director of the Pantone Color InstituteThis season, try the fresh combination of honey gold, a soft muted yellow, with Olympian blue or the retro styling of pink flambé with tangerine tango. Tangerine tango, you may remember, was chosen for colour of the year by Pantone. The accessories (including nail polish!) that you picked up earlier in the year will still look fresh and current straight through December. 
Wear one or any combination of the colours for a fresh look this season.
 By Kim England
 L'Wren Scott wool-crepe pussy bow blouse www.theoutnet.comIrene Neuwith yellow gold large drop earrings www.hirshleifers.comStella & Dot secret garden ring www.stelladot.com
Chanel Rewind part quilt shopper bag www.boutique1.com
Rupert Sanderson Denia patent leather pumps www.brownsfashion.com
Reiss Lucia frill back tailored skirt www.reiss.com