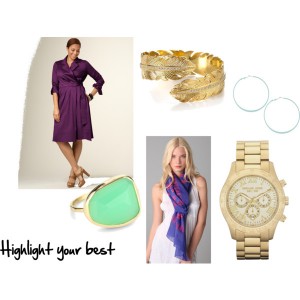 Play to Your Strengths:
While many of us are still working the kinks out of our workout routines, we still have to get dressed and head out into the world each day. We've all made resolutions to buy new clothes once we get to a certain size and have visions of looking great when x or y happens but what about in the meantime? A lot of articles and products are focussed on our 'trouble' areas – flaws that we need to work out, downplay and hide. I'm sure we all know our 'faults' inside and out. Instead of wasting precious moments obsessing over what isn't quite perfect, one trick you can use when getting dressed is to highlight your best features.
Yes, you heard me.
No matter how much you overindulged during the holidays or what stage you are at in your fitness routine, you have a favourite feature. I bet you've even been complimented on it. One reason these areas are our favourites is that they are consistent. Whether we are five pounds up or down, they tend to remain a source of confidence and pride.
Here a few simple tips and tricks to draw attention to the feature you are most confident in.
Have great eyes or a smile that lights up the room? Draw attention to your face with a great scarf that compliments your eye colour or earrings.
If your hands are your favourite feature, skip the clear polish and go for some colour. Wear accessories on your wrists and hands that draw the eye to them. I caution you against wearing too many accessories, however, you want to draw attention for the right reasons, not because you've been mistaken for Mr. T.
Don't hide your hourglass figure under shapeless shifts and stiff fabrics. Highlight your curves with a wrap dress or a belt that emphasizes your small waist. Chunky, bulky knits and turtlenecks will do you no favours. Opt instead for fine knits and v-shaped necklines.
If you've got great legs – try not to do pants day in and day out. Mix it up with skirts and dresses that highlight your great gams. Wear one colour from hip to toe in order to further emphasize the shape of your legs.
If I've left any of your favourite features out, be sure to let me know in the comments section and I will address them in a future post.
Sateen wrap dress – www.talbots.com
Melinda Maria feather cuff – www.bloomingdales.com
Asos hoop earrings – www.asos.com
Michael Kors Layton Watch – www.michaelkors.com
Alexander McQueen Razor Blade scarf – www.shopbop.com
Melissa Joy Manning Neptune ring – www.endless.com
By Kim England