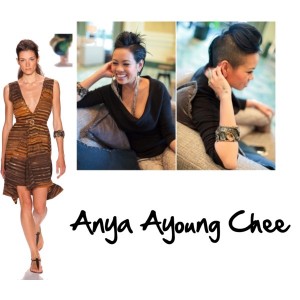 Project Runway is a reality television show hosted by supermodel Heidi Klum. The show pits fashion designers against each other as they race to complete stylish clothing by a deadline. The show just completed its ninth season and its most recent winner is Anya Ayoung Chee.
Anya is a native of Trinidad and Tobago, a sunny southern Caribbean island where Anya-fever has definitely taken hold. A country wide movement helped her win Project Runway's fan favourite award ($10,000 US) via Twitter vote while her unique talent propelled her to win the overall competition. Competition prizes include $100,00S US for her to start her own fashion line, an editorial feature in Marie Claire magazine and the opportunity to sell a fashion line on Piperlime.com.
A graduate of Parsons School of Design and Central St. Martins School of Art and Design, Anya represented her native twin islands at the Miss Universe pageant a few years ago. She launched her women's label PILAR in 2009 and in 2010 introduced her lingerie line Anya de Rogue. Throughout the competition she was praised for her easy and effortless designs.
"I'm just figuring out how to move forward. The demand for the work is there – but it takes a lot of resources to build a brand," the designer explains "I will focus on what people know me for: dresses, jumpers, flowing patterns. It's what I love to do and what I feel I am strongest at. It's really liberating for me to consider that it doesn't have to be complicated."
In the wake of her big win on Project Runway, Anya's Facebook fan page is subscribed to by 59,000 fans eager to hear and see any Anya-related news.
Her mid-year collection – which won't have a name – is aimed at a boutique clientele, but she also plans to launch a more affordable, accessible line.
Ayoung-Chee's post-Project Runway plans are not all about her fashions. One of her publicly stated goals is the creation of a micro-fund to provide financial assistance to young creative people in Trinidad & Tobago with the $10,000 she won from being voted fan favourite.
By Kim England