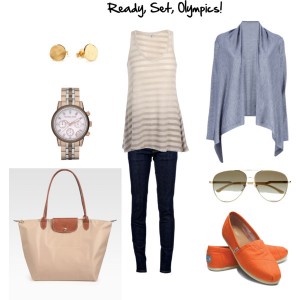 Summer is heating up and so is the anticipation of the upcoming Olympics. With style mecca London England as the host country it goes without saying that fashion will have a prominent place at this year's games. Intensifying the fashion focus is the interest in team uniforms. Several high profile designers are credited with creating signature uniforms for the games including Stella McCartney for Great Britain, Ralph Lauren for Team USA and Giorgio Armani for Italy. The Jamaican athletes will wear uniforms designed by Bob Marley's fashion designer daughter Cedella Marley while Team Canada's uniforms were designed by the Hudson's Bay Company.
Now if your beam routine wasn't quit up to par and you're heading over to London as a spectator, here are some items you may want to add to your packing list.
Londoners, in general, take many more fashion risks than their North American counterparts so don't be afraid to wear something bold or fashion forward. Weather in London can be quite unpredictable. It is not uncommon to experience four completely different weather patterns in the span of just one day. For that reason, my number one tip is to layer. For example, a lightweight tank top or t-shirt, covered by a cardigan and topped with a light weight scarf will comfortably carry you from day to night. Another great item for packing is a cotton maxi dress that you can layer with a cardigan or denim jacket.
If wearing separates, jeans or khakis either in a neutral or bright colour are comfortable options that can be worn with a variety of tops.
With the influx of tourists in an already busy city, you will probably want to commute around town using public transit. For footwear, flats are your best bet – either sandals, ballet flats or a stylish sneaker.
While London has had its rainiest June on record, let's hope that the wet weather tapers off over the next few weeks. That being said, you do want to be prepared. An umbrella is a great addition to your tote bag but a little awkward to manoeuvre when dashing in and out of taxis or standing in line ups which will inevitably be long. If you can swing it, a waterproof jacket with a hood is a great hands-free option.
Other items to ensure you have on hand are sunglasses, sunscreen and a hat for outdoor events.
By Kim England
Clockwise from top:
CLU Degrade jersey linen tank top www.brownsfashion.com
Dolce & Gabanna waterfall front cardigan www.farfetch.com
Stella McCartney aviator metal and acetate sunglasses www.net-a-porter.com
Tangerine linen TOMS www.toms.com
DSQUARED2 slim fit jeans www.farfetch.com
Longchamp pillage shoulder tote bag www.saksfifthavenue.com
Michael Kors Ritz Chronograph watch, tricolour www.cusp.com
Gorjana Chloe stud earrings www.piperlime.gap.com