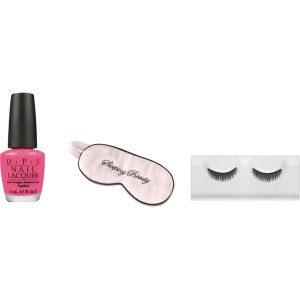 It seems everyone I meet has their own arsenal of beauty tips and tricks that you don't often hear about in trade magazines. Just in time for the warm weather, here are a few beauty secrets I've picked up:
For long-lasting nail polish
Store your collection in the refrigerator. Nail polish should be stored in a cool dark place where the bottles can stand upright. Most polishes have a suggested shelf life of 2 years. Storing them in the refrigerator will slow down the discolouration that will happen as polishes get older.
Heading to a soiree in warm weather?
Keep your makeup in place by first applying a silicone based primer. Primers provide a smooth base for your makeup and help keep your makeup in place. If you are weary of adding an extra step to your beauty routine, a foundation with silicone in it will create a similar effect.
No more raccoon eyes!
Eyeliners are a quick and inexpensive way to add a little or a lot of drama to your look. Using either a pencil or liquid liner comes down to personal preference. I recommend switching your pencil liner to a liquid one as the temperatures heat up. The waxes in pencil liners are more likely to melt creating the dreaded raccoon eyed look.
Ramp up the drama in your eyes,
or if you want to simply fill in sparse lashes – fake eyelashes are a great choice. Easily found in every drugstore, lashes are available at every price point.
Fun fact:
Beyonce's makeup artist gets her lashes from Toronto-based company Velour. Started by two high school friends in 2011, Velour's false lashes are handmade with fur shed by mink on a free-range farm. With styles starting at $24.99, it's a little bit of rock and roll glamour within reach!
Get your beauty sleep!
Skin cell regeneration is most efficient at night. If your skin has a dull or lacklustre appearance, check your sleep routine first to make sure you're clocking 7-9 hours each night. Don't skip you're night cream. At night our skin is more receptive to active ingredients which can lose their effectiveness when exposed to sunlight.
Do you have any beauty secrets? Do tell!
By Kim England