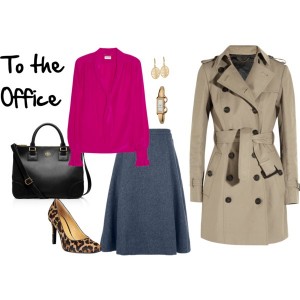 If you carry the majority of your weight around your hips, your body type is typically referred to as pear shaped. If this is your body type, you probably have slim arms, well defined shoulders and a trim torso. Celebrities with a similar shape include Jennifer Lopez, Beyonce and Jennifer Love Hewitt.
Celebrate your super feminine shape in figure skimming fabrics and silhouettes. A great rule of thumb is to seek to achieve balance. As pear shapes are smaller on top, adding some volume or interest to your upper body is the way to achieve this.
Colour and Texture
To achieve a balanced silhouette, I recommend pairing dark or solid colours on your bottom half with brights, saturated colour or pattern on top. To add volume or interest to your upper body, look for fabrics with depth.
Skirt
Ideal for you is a hip skimming a-line skirt which will hint at your curves without revealing the whole story. Other options include a straight or a trumpet skirt, whose ruffled skirt will balance your hips well.
Pants
Pants with a straight or wide opening will balance out your hips well. The taller you are, the more of a flare you can get away with. Stick to the same silhouette when choosing jeans. Trouser jeans are a great choice. Steer clear of embellished pockets (such as flap pockets) or cargo pants.
Tops
Necklines that widen the torso will achieve a balanced look. Look for boat or scoop neck necklines as they will serve you well. Other fun elements such as ruffles and puffy bow necklines will effortlessly draw the eye up to your face, where you want it. Crisp button downs, chunky cardigans, and drapey tops are also right up your alley.
Coats
Coats that hit below your hipline are best. A trench or pea coat would be ideal. As you are smaller on top, you can get away with a boxier cut should one catch your eye.
Accessories
Great earrings, interesting necklaces and fun scarves receive the green light
Shoes
Pointy toed shoes will work to elongate the body and are super flattering.
By Kim England
Clockwise from l-r
Burberry Prorsum mid length trench www.net-a-porter.com
Marc by Marc Jacobs Pleated A-line skirt www.bernardboutique.com
Nine West Caress pump www.ninewest.com
Tory Burch Robinson double zip tote www.toryburch.com
Saint Laurent silk pussy bow blouse www.net-a-porter.com
Gucci G-line watch www.macys.com
David Aubrey earrings www.zalando.co.uk