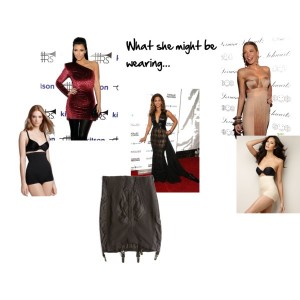 As you watched your favourite celeb sashay down the Oscars red carpet you were probably mesmerized by their hair, makeup and jewels. No matter which designer gown they wore, odds are many startlets had one thing in common – shapewear.
Until now, it has been a well-kept secret by celebrity stylists but an increasing number of celebrities of all shapes and sizes are fessing up to using shapewear to enhance their figure when making public appearances. No matter your shape or size, wearing shapewear under your clothing is one way you can get that perfect celebrity finish.
While body shapers are designed to cinch this, smooth that and lift everything, do note that contouring garments can change your measurements by only 1 to 2 inches at most. Body shapers are made of fabric blends that contain lycra or spandex. The higher the lycra/spandex content, the more support the garment provides. In general, shape wear comes in varying degrees of compression from light support to very firm.
Most women are familiar with Spanx – similar to a biking short, worn to smooth hips and thighs while hiding visible panty lines. More than ten years after Oprah declared the product to be one of her favourite things it remains a mainstay on the celebrity circuit. Octavia Spencer recently revealed on the Ellen DeGeneres show that at the SAG Awards she wore three pairs of Spanx to achieve a flawless finish. For slim women who think that Spanx cannot offer them any benefits, you may want to note that in addition to Kim Kardashian and Jennifer Lopez, super svelte stars like Blake Lively and Taylor Swift have also been snapped by the paparazzi wearing the smoothing garment.
There is a compression garment for almost every body part.
Whether your goal is to flatten your tummy, reduce upper arm jiggle or smooth your hips here are a few tips:
-Do not buy shape wear in a smaller size thinking it will make you look that much smaller/smoother. Inevitably the edges of the garment will roll (up your legs or down from your tummy, etc.) and there goes your flawless finish. Shapewear will also roll when its elasticity has deteriorated signalling that it is time to purchase a replacement.
-Visible seams on a foundation garment will show through form fitting clothing. Many manufacturers use lace trim which can make shape wear less detectable
-Always step into your shapewear similar to the way you would put on pantyhose
-It is recommended that firm to very firm garments are worn for a maximum of four to six hours at a time.
-Before laundering, be sure to read the care label to ensure the longevity of your garment.
By Kim England
From l-r
Kim Kardashian – Spanx slimmer and shine high waisted body tunic www.bloomingdales.com
Beyonce – Polished Appearance waist corselet www.modcloth.com
Blake Lively – Flexees shapewear, Firm Control high waist boyshort www. Macys.com