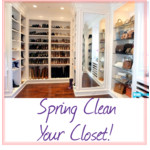 Spring is a time of renewal and new beginnings. What better place to start than in your closet with a spring time clean out.
Cleaning out your entire wardrobe can easily spiral into an hours-long project. My first bit of advice is to set aside a finite block of time for the project. Figure out what you reasonably can accomplish in that span of time and once it has elapsed – switch to a new activity in order to avoid burnout. For example, if all you can spare is twenty minutes, attack a drawer instead of the entire dresser.
Another strategy for accomplishing this task is to review one category at a time – shoes, shirts, exercise gear – you decide what works for you. If you don't trust yourself to be ruthless with your purging or would just appreciate an extra set of eyes, enlist the assistance of a stylist or friend whose style you admire.
When sorting your items, the piles I suggest setting up are the following: Keep, Alteration, Last Legs and Donate.
Keep
In the Keep pile should be those things that:
are flattering in terms of colour and fit
are in good condition
are in line with your desired image
typically have been worn in the past 2 years
Alteration
Items that you are keeping but cannot be worn without some TLC. Items in this pile will include:
shoes that need to be resoled
pants to be hemmed
items to be taken in or let out, etc.
Last Legs
Items that you will replace as soon as your time and budget permit. Items that go in this pile include i.e.: that cardigan that fits perfectly but is past its prime and fading and/or starting to pill, the jeans that you've darned several times already,
Donate
Items that are not ideal for you in terms of colour and fit but are perfectly wearable
Pass them on to your local place of worship or organization close to your heart. Another idea is to gather together friends and family to have a clothing swap.
It may take a couple of purges to get in the swing of being ruthless but the end result – a closet full of items you look great in – will make getting dressed each day an absolute joy.
By Kim England