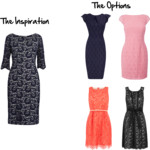 Celebrity fashion is everywhere. From the red carpets to "random" paparazzi photos, the outfits worn by your favourite starlets are featured on the pages of fashion magazines and dissected by bloggers on the internet. The price tags of the items worn are often considerable. Many times the celebs don't pay for these items and are instead gifted the items by designers in the hopes that they'll be photographed wearing them. Compared with the cost of a marketing campaign, having your garment worn by the right celebrity can have a bigger impact on your bottom line for a fraction of the cost. Don't have a designer hankering for you to be papped in their clothing? Not to worry, there are ways to achieve the same look as your favourite celebrity without spending a million bucks.
Major awards shows are watched very carefully by mass market designers. Days after a major event such as the Oscars, designers have already copied many of the styles worn on the red carpet and they are on their way to being sold at sharply lower prices than their famous counterparts, in this case, just in time for prom season.
Erdem's blue lace Cecile dress that was worn by Kate Middleton last summer was quite a hit. Not interested in forking out approximately $2000 for one of your own? Not to worry, while you may not find and exact replica of the dress, you can definitely find something similar enough to create the same overall feeling as Ms. Middleton's outfit. Shops like Marshalls and Winners are great for such items. Their buyers do a fantastic job of keeping abreast of high end fashion and home designs and scour the globe for less expensive options. Not up for hunting through racks of clothing? A few other shops you may want to try for that look for less include Zara, Mango and the Bay.
If you have found an item that you like but are unsure of the quality, I recommend buying it in a darker colour. Pay attention to the way the fabric feels – anything scratchy, rough or cardboard-like isn't going to make it out your front door very often and you may be better off passing on it.
By Kim England
The Inspiration: Erdem Cecile lace dress www.matchesfashion.com"
The Options, top row l-r :
Navy lace dress www.dorothyperkins.com
Warehouse Lace Bodycon dress www.warehouse.co.uk
Bottom row l-r:
Lily lace dress www.oasis-stores.com,
DKNY stretch lace dress www.net-a-porter.com