Well – it has finally happened! The boots that were, at first ,deemed cheeky or risqué are now very much a part of everyday fashion. While over-the-knee boots can be challenging, they absolutely can work on every body type. So, whether you are curvy, petite or tall, if you are wondering how to incorporate this au courant trend into your wardrobe – read on!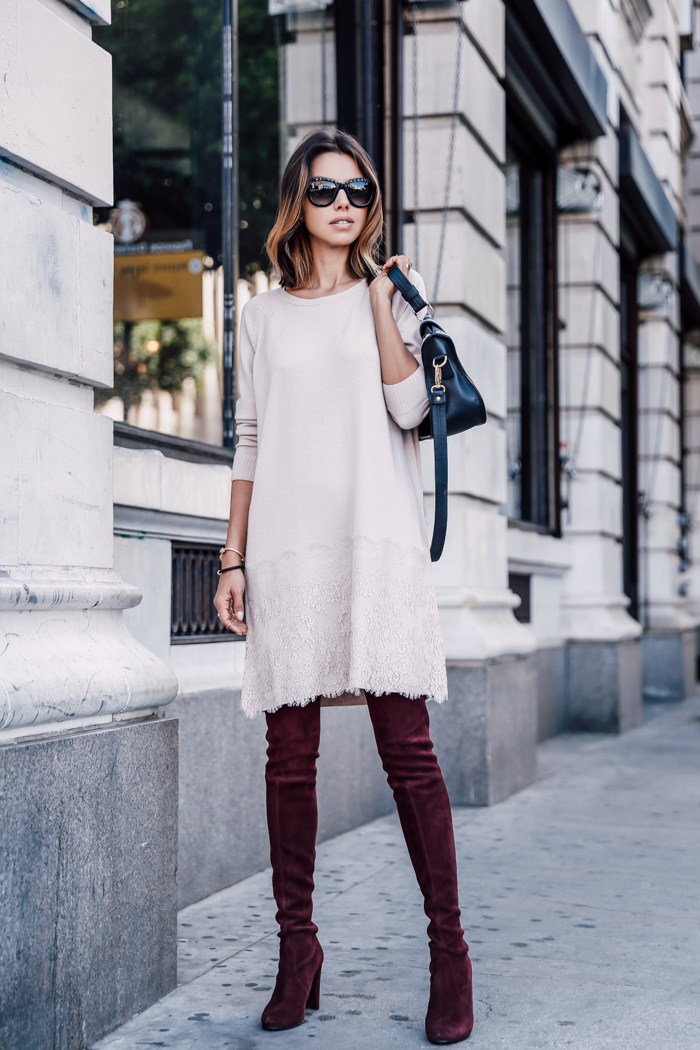 1. Over-the-Knee High Heel Boots
Because they cover over half of the leg, over the knee boots can dominate your lower half. A heeled boot can help to balance the heaviness of the boots and lengthen your legs. For best results, find a pair that provides a snug fit and ends one to two inches above the knee. Over the knee boots are probably easiest for tall women to wear as they just have more 'real estate' to play with! If, though, you would rather not draw attention to your height, this probably isn't the look for you. For petites, over the knee boots look best with structured pieces that show your shape. If you would prefer to wear a longer hemline, ensure that your boots are snug and sleek in order to maintain a sharp look.
2. Over-the-Knee Flat Boots
Perhaps the easiest style of over-the-knee boots to integrate into your wardrobe are a flat pair. Pairing comfort and practicality, this equestrian style option can take you from work to errands to dinner. Perfect for both tall and short ladies alike, keeping the look monotone will give you your best leg-lengthening option. If you're going to bring this look to the office, be sure to keep your upper thighs covered — that sliver of skin can draw the line between office hours and after hours.
3. Lace-Up Over-the-Knee Boots
If you're looking to jazz up a pre-existing outfit in your closet, lace-up over-the-knee boots will definitely provide you with that wow factor. Bold, glamorous and seductive, these boots are best reserved for a night out. Be prepared – when stepping out in a pair of lace ups, all eyes will be on you.
4. Play with Colour
Grey, brown, blue, cognac and the list goes on – if you are looking to have fun, you have options! For the most on-trend look, choose a fun colour in a soft suede. In order to get the most wear out of your investment, select a colour that you are comfortable wearing as you would a neutral (pro tip: almost any colour can work!). Another tip to ease this look into your wardrobe is to keep the rest of your look subdued while allowing the boots to steal the show. Trying to pair colourful over the knee boots with an equally colourful ensemble can seem rather over the top unless done with a careful eye.
Happy Shopping!
By: Kim England
Photo credit: justthedesign.com