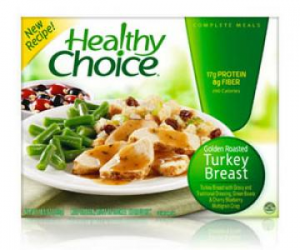 Are Frozen Diet Meals Healthy?
For those of us who have rushed around trying to lose weight for a wedding, or another big event, the go-to foods are those frozen food aisle meals. Lean Cuisine, Healthy Choice, Smart Ones. They sport the calorie count on the front of the box and they offer a variety of flavors to satisfy anyone hungering for those skinny jeans. Sure, consuming these meals can help plan and execute a diet, but are they really healthy?
Frozen foods like fruits and vegetables are actually as nutritionally beneficial as their fresh cousins. Frozen meals, however, are an entirely different animal. To keep you full, they all incorporate some form of carbohydrate, typically pasta. But this is never enough to actually satisfy your cravings. And to keep the meal preserved throughout its trip to your stomach, it is loaded with salt and other preservatives. Yes, they generally are under 300 calories and a few grams of fat, but the devil is in the details.
As suggested in this column before, the best way to diet is by changing your outlook on dieting. It's not about cutting out foods or starving yourself, but rather eating what benefits your body and managing the portions. Our suggestion would be to go this route as opposed to relying on diet meals.
Although if you choose to continue with this regiment, be sure to eat a fruit or vegetable on the side of your frozen meal. A salad or yogurt is also a healthy option to include. You could even add leftover meat from your fridge or a sprinkling of nuts to boost the protein. If you've never eaten a frozen meal before, don't fret, these are not your mother's frozen dinners. They actually do have flavor!
Here are a few options that are the best for your diet, your taste buds and peace of mind:
Healthy Choice: Portobello and Spinach Parmesan
Smart Ones: Chicken Marsala
Lean Cuisine: Steak Tips and Portobello
Choose carefully. Check for calories and sodium as well as vitamins and additives. Remember that a diet is how you maintain your health, not how you drastically change for one big day. If you eat frozen meals, do your best to ensure its healthy.
http://www.webmd.com/