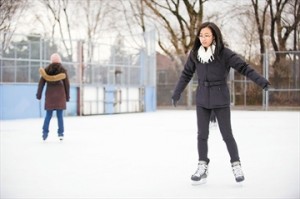 Get Fit and Have Fun without Breaking the Bank
I recently started an office job after many years of a career which kept me active and outside during the day. What was once my routine of running or walking on the trails behind my house before or after work has been replace with a drive to and from the office. I am faced with the challenges of winter; cold weather, limited daylight and most significantly a lack of motivation to be active! Here are some inexpensive, fun and motivating solutions I have found to get me out of the rut:
Skating:
Buying a pair of skates was one of the best investments I've made! A good pair of skates can cost under $100 and there are many used skates to be found for half that price. Look up outdoor skating rinks in your area which are often city maintained therefore lit and cost nothing to go. Indoor skating rinks are also great options and you can never use the weather as an excuse not to go!
Sliding:
Look for a park near your house and invest in a garbage bag for loads of laughs! Walking up the hill provides a great cardio workout and you will be surprised by how fun a once childhood activity can be. If sliding down the hill is not your cup of tea, simply walking up and down the hill, or walking around the park is a great way to get outside and exercise in a lit area.
Walk the Mall:
If getting outdoors is not an option, the mall can be a great alternative for exercise. Walk your local mall at a brisk pace and invest in a pedometer to be surprised by how many steps you take. Take stairs instead of the escalator or elevator for added exercise and don't be afraid to try on or buy an outfit that makes you feel great!
Simple In-Home Equipment:
Even in a small downtown condo, in-home exercise can be accomplished. Get a hula hoop or skipping rope and simply spend a few minutes using them in the morning or while watching TV at night. A stability ball can be used for many simple yet effective exercises that focus on core and back strength. Resistance bands are also inexpensive and great tools to build muscle tone and strength.
I have been diligent to begin all the above activities in lieu of a more sedentary and indoor lifestyle. My energy level has greatly increased, and I find myself motivate to eat a healthy, balanced diet daily.
By Sarah Bamber