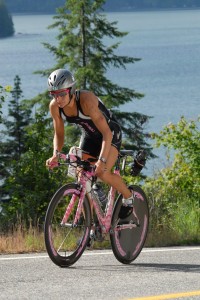 Once and a while we encounter people whose stories have a great impact on our lives. One of my relatives is a woman in her 40's who is in the best physical shape and overall health of her life. She competes in triathlons and ½ Ironman competitions along with raising a young family. If you are looking for a motivational story, look no further and follow in the foot steps of this ambitious mom.
There are multiple goals associated with training for such rigorous events, but for a young mom, the biggest one is to be an inspiring role model for her children. Triathlon and Ironman training involves defining goals, discipline and of course a huge time commitment to the gym. It also requires healthy balanced eating, time management and of course, having fun.
As you can imagine, training for such events consumes many hours in the day, but it can be done. She trains 10-16 hours per week which includes running, swimming, biking or weight training. Most of the training is completed while her kids are at school, however there are working moms who are off and running at 4am and some who also continue after work. That kind of commitment to training for such long hours and with a busy lifestyle, can inspire many to put in even a third of that time to become fit!
Nutrition is also a vital part of training for triathlons and ½ Ironman competitions. A healthy and balance diet is vital and includes consuming carbohydrates and lean protein. Hydration is also very important whether it be during training, leading up to race days or during the race itself. One of the most important nutritional pointers I received from this woman was to eat a balanced diet – including treats and the occasional beer or wine. It is almost impossible to limit ourselves from our favourite foods; therefore including them in moderation is permitted even by these dedicated athletes!
Regardless of your goals in life for personal health and fitness, remember they can be accomplished at any age and then you too can be in the best shape of your life!
Start now and become a role model for your children, family and friends.
You will not only embark them on a wonderful journey, you will also enjoy your time together during the training.
By Sarah Bamber