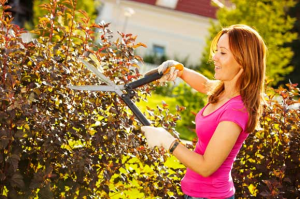 How to Stay Fit Without Hitting the Gym
Spend the weekend painting and you'll quickly realize that you don't have to go to the gym everyday to have a good workout. There's daily events that can get your blood pumping, the sweat flowing and the calories melting away. And we'll bet you didn't even know it was a good workout! Remember waking up the next day with sore muscles? There are plenty of easy things you can do around the house and stay fit while doing them.
Yard Work:
If its leaves, snow or grass, there's something in your yard that needs you attention. Clear up the debris to work you're a variety of muscles. And look at that? Chore completed.
Clean the House:
It has to be done. Every room. The entire house. Take it in sections and not only will the house be cleaned and organized, but you'll have burned calories while you're at it.
Play with the Kids:
Whether you're inside building a fort or outside running the bases, join those energetic little ones and use your energy. They'll be happy you played and you will be too.
Paint:
You've been staring at that paint chip for months, get it done already! Up and down off the ladder, up and down with your arms, you'll be surprised what a great workout painting can be.
Rearrange a Room:
Furniture can be heavy, but you're determined to make the space look better. So move some pieces around and see how it feels. Pretty good, right?
Dog Walk:
Don't have a dog? Go for a walk anyway. Taking a stroll around your neighborhood or local park is a leisurely activity that you can benefit from any day of the week.
The best thing about these exercises is that they won't feel like the dreading weight of going to the gym. Better yet, you'll accomplish things around the house that may have played second fiddle to any other excuse throughout the week, season or year. If you're playing with the kids, it's a win-win for you and your little ones. See? Everyone's happy. And no one needs to know you're losing weight in the meantime.
By Rachel Horwitz