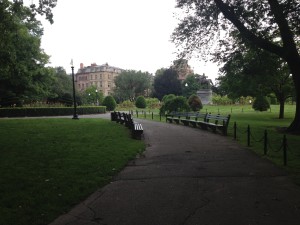 I recently traveled to Boston for the first time to meet a friend and tour the city. Boston is a place I've always wanted to visit and it surpassed my expectations and I left feeling "in love" with the city! One of the greatest impacts the city had on me was the value of fitness and health, especially when it comes to running.
It has been a few months since I began my journey of running again, and although I was on vacation while in the city I still ran almost all mornings while there. It is always a struggle while on vacation or traveling to maintain healthy eating habits and exercise, however Boston is set up in a way to stay active. The streets are all clean and sidewalks wide, and there are beautifully manicured parks in the city's downtown. I always passed fellow runners and it was inspiring to see the amount of people out and about before 7am most mornings.
Boston is not only great for running, but is very accessible anywhere by walking. I got many walking miles in while exploring the city, and even got sore shins and hamstrings from the amount of walking I did. Although the food is divine in the city, it also seems to come in controlled portions as opposed to other city's I've visited in the past. There were also many fresh markets and it was nice to buy fruits and other foods for snacks and breakfast rather than filling up in restaurants all day.
I unfortunately did not see the memorial or finish line for the Boston Marathon, however have made it my goal to be back within the next year and visit. I can now understand why such a city hosts the biggest marathon in the world. The people of Boston are all so friendly and accommodating and for such a tragedy to happen as what took place last year is devastating. Many local vendors sold "Boston Strong" t-shirts and it left me with goose bumps when I would see someone running with that t-shirt on.
It was a great feeling to come back from vacation feeling fit and in even better shape than before I left. I can say that's never happened to me before and it really makes my time in Boston more memorable.
By Sarah Bamber