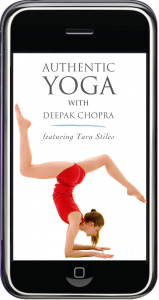 Best Yoga Apps
For the yoga loving, health conscious individual, finding time to exercise is vital. In today's busy world that can be a challenge, and thanks to phone applications, managing your routine is easier than ever. Whether you're at home, on vacation or have your hands filled with the children, there is always time for yoga. Here's a collection of the best applications to use on a smartphone:
All In Yoga: Capable of showing different position demonstrations, this app is also able to help you organize your workout as well as run mini-classes with a video instructor. If you're just starting yoga, this is a great tool.
Pocket Yoga: A simple and straightforward application that shows pictures of each position will help you jumpstart any yoga exercise.
Authentic Yoga: With pictures and demonstration videos, this application can work for a yoga novice or a hardcore yogini. The best aspect of this application is that it was put together by yoga professionals and well known doctor, Deepak Chopra.
Mind Body Yoga: On the go? Away from home? Across the ocean? This application can locate nearby yoga classes, the time, the price and where you can meet other yoga enthusiasts- anywhere in the world.
Women's Health Hot Body Yoga: Position pictures, demonstrations, instructional workouts, what else could you ask for? This rigorous application encourages a vibrant workout so you can look your best fast!
If you're new to yoga, or a veteran, there is a program for you that will change the way you maintain your fitness through the art of yoga. Yoga can be a spiritual exercise, or simply a new age workout depending on your outlook. In either case, you can take your practice on the go with your smartphone. The listed applications are the cream of the crop when it comes to yoga. Chose the application that suits you best, or purchase them all for ultimate variety!