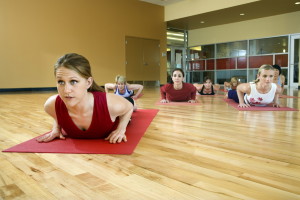 Ring in Spring with Hot New Fitness Trends for 2014
It has been a long and cold winter but with glimpses of spring around the corner, fitness motivation has come into effect. The year 2014 has brought in some new fitness trends, this season focusing on high intensity and natural work-outs. If you are looking to try something new to improve your overall health, try some of these hot new 2014 fitness trends.
• Something that will never go out of style is maintaining overall health. In 2014, the trend of overall well-being is in full swing, focusing on a healthy heart, lowering blood pressure and reducing diabetes; all ailments that are becoming more and more apparent across North America. If your goal is to set both you and your family on a long-term path of wellness, focus on diet, exercise and your mind. Seek out a nutritionist, naturopath and even a personal trainer to get started on your kick-start.
• If you're like many people and do not enjoy large and busy gym environments, you're in for a pleasant surprise in 2014. Smaller and more personal fitness clubs are growing in popularity along with at home work-outs. Jillian Michaels, a celebrity personal trainer, has launched work-out DVD's geared towards the working professionals and to be done in home. So called express workouts are taking the place of long drives to busy gyms and expensive memberships and most can be done in the comfort of your home.
• Yoga has never lost popularity, however in 2014 therapeutic yoga is gaining popularity. Although yoga has many different branches, the mindfulness of the practice is drawing-in the baby-boomer population. Many people indulge in yoga to release stress and anxiety, and yoga studios are filled both before and after work-hours with people looking to improve their overall wellness. Yoga can also be practiced at home with many DVD's available and even free videos on internet sites.
• Some fitness trends that are quite the opposite of yoga but also very popular in 2014 are high intensity and interval work-outs. Obstacle courses with natural hazards are popping up in many cities, and many events such as Tough Mudder and Spartan races draw thousands of people in to compete. These outdoor and high intensity events are very social and encourage groups of people to become fit together all while attaining personal fitness goals.
Whether you are looking for the comforts of home, the relaxation of yoga or even a calorie burning intense training session, look into 2014 fitness trends near you!
By Sarah Bamber