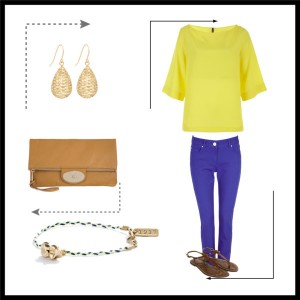 With our first long weekend of the spring officially behind us I think the warm weather is here to stay! If you're looking to spruce up your wardrobe this season, this handy list of spring trends will help to identify this season's standouts once you hit the shops.
Peplum
A peplum is a short flare that sits at the natural waist (the smallest part of your waist). This season, look for a flared waist on jackets, tops, skirts or dresses. A very feminine look, peplums are great on a variety of body types as they can create curves where you may not have them or accentuate those on a curvier body. To carry off this lady like look, be sure to top it off with a pair of heels.
Sporty LookIt seems Sporty Spice was a bit ahead of the times. In recent years, fitness apparel has been designed with increasing levels of street appeal and this season, you'll be right on trend if you wear them both inside and outside of the gym.
Cropped tops
Fitting that this trend comes right after sporty apparel – if you've been keeping up with your crunches, you'll be pleased to know that cropped tops are right on trend this season. Keep you eyes peeled for these in a variety of styles from teeny bra tops to loose-fitting cropped sweatshirts.
Tangerine
Super vibrant orange hue is going to be a hot one for the rest of the year. A great colour for summer, it embodies energy and excitement. As I mentioned in a previous post, if orange isn't your colour, you aren't in the minority. You still, however, can enjoy this trend by wearing it away from your face – perhaps a coloured cropped jean, sandal or pretty nail polish.
Colour blocking
Colour blocking is back for another season. For those who think this look is advanced or difficult to pull off – think again! Colour blocking means just that – wearing blocks of colour. A rule of thumb is to stick to two or three colours – any more than that and you can start to look a little bit like a piñata.
Shorts suits
Shorts suits are a cute summery take on the summer suit. As with your traditional suits, pay close attention to the fit of each piece to ensure you look great wearing them separately for more mileage. Naturally, shorts that are closer to the knee are the most office appropriate. When worn with a flat or moderate heel for a polished finish.
Mint green
Pastels are always in season at this time of year. For spring/summer 2012, mint green seems to be the runaway favourite. Try this icy hue in everything from a blouse to a coloured pant for a very cool and low key vibe.
By Kim England
Clockwise from top
Yellow shell top with contrast exposed zip www.fashionunion.com
Cobalt slim leg jeans www.wallisfashion.com
Sam Edelman Whiskey sandals www.coggles.com
Madewell braided birdie bracelet www.madewell.com
Mulberry oversized postman's lock leather clutch www.net-a-porter.com
Lord & Taylor drop earrings www.lordandtaylor.com