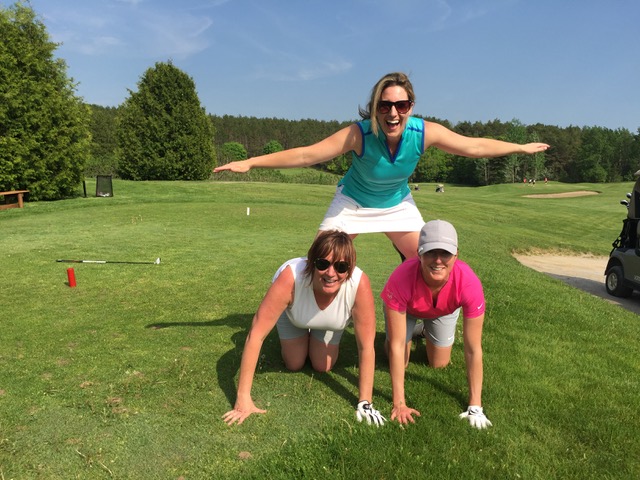 Article By: Sarah Bamber
Golf is a great sport and something that seems to be trending amongst people in popularity. It is a sport that is most often played for fun and the social aspect involved whether it is spending time with your significant other, group of friends or a networking experience. Golfing is also a great way to get outdoors for an extended period of time while getting exercise. This weekend, I will be in my first golf tournament of the year – this one purely for fun! As I prepare for my first time on the lynx for the year, I have been researching tips and tricks to hopefully help my game. Here are some great learning tools I have found to make your next time out on the green a positive and fun experience.
Smart Phone Apps: Golf is always more fun if you make a great shot or exceed your expectations. In our modern world, there are many gadgets available to improve your game. One app available for download on your smartphone is through www.golflogix.com.  Whether you are looking for a GPS outline of a course, or emails sent to your phone for tips and tricks to improve your next game, this app has become a staple to improve my game.
Smart Watches: Another great purchase is the Garmin watch. Available in a few models mostly based on price and features, the watch has capabilities to track your heart rate and measure the distance from your ball to the hole. Look for  Garmin watches at local golf pro stores or sporting stores.
Video Tutorials: For a small monthly fee, the My Golf Digest app is filled with educational videos and tips. If you prefer to read articles in magazines, Golf Digest also publishes a magazine that can be purchased through many stores. Many articles about current golf happenings and tips are also available on their website www.golfdigest.com
Always Find Your Ball: A common trait many amateur golfers which they could achieve is starting and finishing a game with the same ball. If searching through the long grass or into the forest is something you would like to avoid, look into purchasing the Radar Golf System. With tiny sensors placed inside golf balls, you can pinpoint exactly where your ball has landed. The device comes with a hefty price tag, however, if looking to impress your boss with this flashy device, it may be the gadget for you!
Golf Sleeves: I have noticed a variety of professional athletes using these thermal and moisture wicking sleeves which are available through www.nike.com. The sleeves roll up and under your arms like sausage casings to provide warmth without the bulk of a jacket. The arm warmers are also compact to put into your golf bag and easy to take on and off on the course when needed.
Winning Gloves: As an amateur golfer, I often get many blisters on my hands after a round of golf. For an affordable cost,www.bionicgloves.com features anatomical relief padding that distributes contact with your club grip and helps prevent your club from twisting in your hands. The gloves also increase circulation to keep your hands cool and have added padding in the palm to eliminate discomfort.
Golf is a great sport to incorporate fitness, socializing and even networking into your life. Next time you plan your next golf game, look into some of the tips and gadgets above to improve your game and impress those around you.