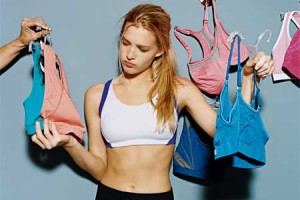 The way we present and dress while working out has a lot to due with one's fitness success. You may not realize it, but when you like and feel great about the way you dress, your workout will be influenced in a positive way. One of the most basic pieces of workout gear for women is the sport's bra and like all women they come in all shapes and sizes! Here are some great tips for buying the perfect sports bra to compliment your workout.
Always wear a sports bra;: This may sound like a simple technique, but wearing an under wire or push-up bra are simply not meant for the twists and poses we put our bodies through during exercise. Sports bra's keep your breasts in place during movement and can even reduce breast movement by over 70% compared to a regular bra.
Invest in quality: You can make or break your workout with the way you feel. There is nothing worse than a pair of shoes that gives you blisters, shorts that ride up in all the wrong places or socks that have a way of slipping under your heels! Invest your money in good sports bra that provides support and fits well under your shirts. Go to a quality sporting clothing store and have an employee who knows the products fit you correctly. For a great bra, take the time to step into a lingerie shop to be professionally fitted.
Tailor to your activity: Keep in mind the exercises you will be doing while wearing your sports bra. Will it be low impact like yoga, or high impact like running? Having at least 2 styles of sports bra's according to your activity will improve comfort and make you feel a step ahead in the exercises you're performing.
Choose an innovative fabric;: Just like all fitness clothing, sports bras use modern technology as well. Choose breathable and moisture-wicking fabrics and look for designs such as breathable features over area's of the body that generate the most sweat (such as under the arms). Look for durable materials and ones that will wash and wear with ease.
Go for fun: Look for a bra with a unique cut such as a low neckline, t-back or separate straps. Despite working out, you should feel comfortable and even sexy in your sports bra. Choose colours to spice up your choice, but remember there is a line between over the top and classy!
Before you even step out the door to work out, put on the appropriate sports bra to compliment your style. You will be amazed what comfort and style can do to influence your fitness in a positive way!
By Sarah Bamber
canadianliving.com
womenshealthmag.com