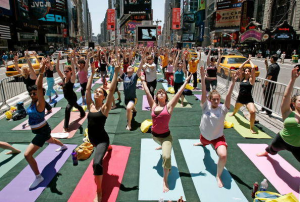 Top 7 Fitness Trends of 2012
Just like fad diets, the latest craze in fitness comes and goes on a dime, but some show promise for sticking around for the long haul. Those that have erupted thus far in 2012 seem to be of the stick caliber. Whether you've heard of these trends or not, expect to see them for years to come. With that said, get yourself acquainted with the top seven trends five months into 2012:
Wellness Coach–
Sometimes you need that extra nudge to get going and a wellness coach will not only help with your exercise routine, but alter your diet as well as your manner of thinking that have led to an unhealthy lifestyle.
Outdoor Yoga–
Yoga has been popular for quite a few years, and its gaining steam, but the newest aspect of the regimen is taking it outdoors. Group exercises in parks are similarly climbing the charts.
Office Exercise–
Keeping fit is now a priority of some offices. Their employees are getting fitness balls as chairs, and handheld weights to lift during downtime. Yoga in the conference room is another perk.
Zumba–
As it is, people love to dance and this style of fitness combines music and rapid movements to keep you healthy. If you're the type to dance through the kitchen, or wait for the weekend to get to a club, this exercise is for you.
Personal Trainers–
Just like a wellness coach, personal trainers are there to guide you through the steps to making you fit. These one-on-one sessions are seeing more use since it is a private event and personalized care.
Elderly Adult Exercises–
For the older adult crowd, the need to stay physically fit is essential. Due to the desire and need to keep healthy, classes catering to this age-group are taking off all over the country.
Fitness Professional–
After reading this list, it shouldn't come as a surprise that more people are going to school to become fitness professionals. Physical therapy, personal training, sports teachers and coaches are in high demand.
Not only does this list show what has become popular, but it shows that people of all ages are becoming more health conscious with the amount of exercise they are getting. The importance of keeping physically fit and maintaining a healthy body is not a 2012 trend, it is the beginning of a different mindset. Hopefully you're already involved in one or more of these fads, but if not, you should consider the activity which drew your attention.
By Rachel Horwitz.
www.huffingtonpost.com