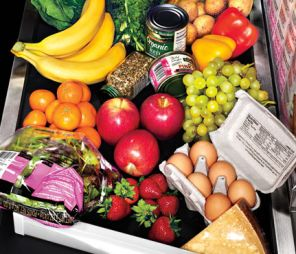 Top 7 Nutrition Trends of 2012:
Each year, a new diet and nutrition trend takes root and sweeps through communities like a wildfire. Some are healthy, others are not, but the fads of the neighborhood become the trends of the year. Even though 2012 has only just begun, we've put together the up-and-coming popular changes in the way people eat.
Stay Low– If you can find the right product that is low carb, low sodium and low fat, you are right on track with this trend.
Vitamins, Minerals and Fiber, Oh My!- People are seeking out foods that support all their basic needs in a one-stop package.
Season's Eatings– Instead of looking for strawberries in December, or pumpkin in May, there is a popular shift in eating what's in season.
Local Food is Best– Farmer's markets are steadily gaining popularity, and as such, so is eating fresh, local and organic foods.
Plants Galore– There was once the meat-heavy diet, and now there is the plant heavy diet.
Vitamin D is Back– Gathering vitamin D from the sun can be dangerous, so people have turned back to good ol' milk.
Eat Fat, Fatty Acids– The demand for products with ogema 3 fatty acids are at an all-time high.
Plate Management– What goes on your plate is important, but even more so is how you manage your meals. Proportion size for dining in and out is more important than ever.
As the year continues, we may see some or all of these trends replaced with other fads. Perhaps they'll stick around and continues as trends of the future, but it is interesting to see the collective transformations popular nutrition has taken. Over a few years, the whole grain fad is waning, and the liquid diet has gone by the wayside. Taking their places are more trustworthy and respected ideas of eating what is available and what your body requires to work at peak levels.
Medicinal foods or "functional" food diets are soon to be a new trend.
We will choose foods that prevent illness, address certain health issues, nutrition therapy or antiaging diets that will create more energy and vitality. Stay posted as marketing trends move in this direction for health conscious consumers.
By Rachel Horwitz.