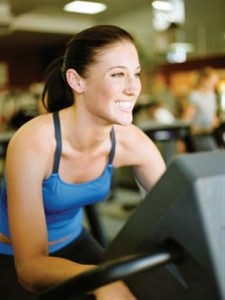 With the 30th Olympiad on the horizon, you've probably noticed the number of unbelievable bodies prepared to attend. They're at their physical peak. All the time. You might be wondering how those athletes stay in such incredible shape. It's no piece of cake, that's for sure. But it's not as hard as you might believe. Thankfully, we have the tips to help you shake up your routine and train like an Olympian:
Set Goals:
You can't jump into the race without a finish line, so before you even begin your workouts, be sure to clarify what you want out of the training, how much you'll be doing, how often and when you're through.
Ramp up the Reps:
Start off with a number of reps that makes you feel comfortable. Then, jump out of your comfort zone! Add five more reps each day. Increase until you have reached your ultimate goal.
Change Environment or Routine:
If you get to the gym, backyard or wherever you work out and feel bored or unenthusiastic about exercising, change the scenery. If the routine feels like the same-old-deal every day, then change your routine! Make whatever changes necessary until you are excited about working out.
You Have to Sweat:
If you're doing a few curls and running on the elliptical and then calling it a day, that's probably not enough. Are you even sweating? Double check at each activity if you've created enough motion to cause yourself to sweat. Sweat is good!
Stay Hydrated: For your workout, you might be tempted to grab a Gatorade or energy drink to keep you going. True Olympians stick with water for their workouts. Drink water throughout the day and during exercise.
Have Fun: The greatest tip of all.
Run through the Olympic sized list here and be sure to follow the rules so your exercise is not only worthwhile, but effective. Do what you love, drink a lot of water and set goals for yourself. You may not come out of it looking like an Olympian, but you'll sure feel like one!
http://www.fitnessmagazine.com/