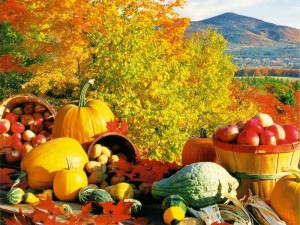 10 Best Fall Foods For Dieters
Most people looking to diet, view the Fall and Winter holidays as an unavoidable road bump where they will gain weight from the never ending family gatherings and special dinners. And so, they look forward to the New Year to renew their dieting commitment. But why not start now? Yes, right in the middle of Fall. The Autumn season has a bountiful selection of foods to choose from that are excellent for dieters. Here's the top 10 items you can add to your diet:
Acorn squash:
By consuming 1/2 cup of squash with your meal, you'll take in a significant chunk of your daily need for vitamin C. It will also help curb your need for a naughty dessert since this squash is naturally sweet.
Apples:
This versatile fruit can be cooked with savory ingredients or filling your delectable sweet dreams, but best of all, its fiber full which will help to keep your system regular. And it can curb your appetite as a mid-meal snack!
Brussel Sprouts:
Filled with protein and fiber, these nuggets of Autumn deliciousness are best roasted with olive oil, salt and pepper – that way you maximize their effects. They pair well with any meat and are very low-calories vegetables.
Cranberries:
These little jewels are bursting with antioxidants to help boost your immune system, cleanse your urinary tract and keep your heart healthy. Add them to salads, grain dishes or various sides for a sweet punch.
Dates:
If you're tempted to eat the mounds of Halloween candy, you can swap them out for this dried fruit. They have magnesium and potassium which can increase your energy without adding calories.
Pears:
This is another great Fall fruit that has lots of fiber and can fill you up in between meals. Pears also mix well with savory and sweet plates.
Pecans: Nuts offer a satisfying crunch to many salads and snacks, but pecans are one of the healthiest nuts due to its power-packed collection of vitamins and minerals. And better yet, only a ¼ cup will do the trick!
Pomegranates:
Helping to control blood-sugar levels, as well as providing much needed antioxidants, pomegranates are high in vitamin K and potassium. They make great additions to grain salads of all sorts or even your morning cereal.
Pumpkin:
High in vitamins and minerals, including the antioxidant beta carotene, pumpkin is one of the best Fall foods around.
Swiss Chard:
Torn into sections for salad or steamed for a side dish, eating Chard is a great way to boost your immune system and maintain the iron levels in your blood. It's also high in vitamin A and K. And P.S. It's one of those leafy green super-foods.
By remembering portions which we discussed not too long ago, you can reap the benefits from the Autumn harvest by sprinkling these delicious foods into your regular diet. Eating seasonally will also help your wallet at the supermarket since foods in season will be cheaper than those that need to be shipped halfway across the world. So go buy pumpkins, apples and squash and enjoy dieting this Fall.
By Rachel Horwitz
http://www.webmd.com & http://www.shape.com