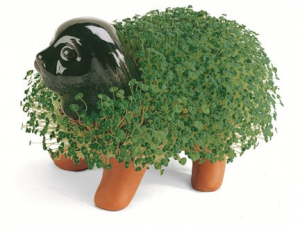 By now you've likely heard of the Aztec Diet and may be wondering if it can really work when its staple food is used as hair on your kid's Scooby Doo chia pet. The focus of the Aztec diet is primarily on eating healthy throughout the day by consuming more fruits and vegetables than carbohydrates or proteins. At first glance this is a decent idea, but then the show-stopper arrives in the form of a tiny superhero: chia seeds. For the first phase of the diet, you are to make smoothies for each meal that include chia seeds. While they are high in omega 3's and fiber, it can be a tough item to swallow. Literally.
But it's not necessarily the chia seeds alone that are providing results. Since the diet encourages removing saturated fats and retaining an exercise routine, it's no surprise that this has been effective for its users. Any diet that focuses on removing bad foods and staying fit while eating healthy is almost sure to work. For examples, if you cut out ice cream, or other sweet treats, you'll probably see weight loss results. The same can be said of the Atkins Diet which effectively removed all carbs.
But let's give the Aztec Diet some credit, chia seeds are an excellent source of protein as well as vitamins and minerals. They're essentially one of nature's superfoods. If you were to choose any seed to add to your smoothies, this would be the one. Chia seeds pack a punch that will carry you through the rigorous activities of the day as well as nourish your body. Believe it or not, you can use them in other snacks or meals and see similar results. And they just might be easier on the way down on your plate rather than in your glass.
The Aztec Diet is another fad just like all the rest. And like most of them, it hinges upon effective tactics to assist you in your weight loss goals. Is it really the diet of the gods? No. But will it work? Yes. Even still, you're better off eating well all year long while working out regularly to maintain a healthy body weight. Maybe now you'll include a feed chia seeds along the way.
caloriecount.about.com
By Rachel Horwitz