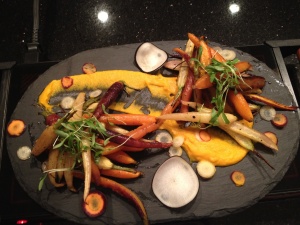 Thanksgiving is just around the corner and with it comes an abundance of delicious food from the autumn harvest. One of the greatest feelings is sitting around a table surrounded by family and friends, and enjoying a delicious feast. With it comes the very hard task of eating in moderation or even eating remotely healthy for that matter.
Here are some healthy tips to enjoy Thanksgiving dinner this holiday season.
Starch in Moderation:
Breads, potatoes and turkey release tryptophan and can cause drowsiness.Think about using quinoa or chickpeas as a stuffing alternative this year. Both are loaded with flavour and contain more protein than their starchy counterparts.
Olive Oil versus Butter:
Although butter has a wonderful flavour, olive oil is a much healthier alternative and doesn't contain cholesterol. Olive oil is a healthy source of fat that can be added to cooking, however if you need butter remember to use half of your regular portion to maintain the same buttery taste.
Turkey Portions:
When purchasing your turkey this year, try boneless turkey as a healthy alternative. Cutting turkey into thinner slices for serving helps since we often eat much more than we need! Do not place the entire carved turkey on the serving plate and offer smaller portion so people are less likely to over indulge.
Side Salads:
Be creative with your salad options and think about using brussel sprouts with cranberries, pine nuts and a balsamic vinaigrette for a healthy yet flavour packed salad. How about trying maple syrup as a sweeter in salad dressings over sugar and remember, a little goes a long way.
Add Flavour:
We can all attest to the fact that when food is loaded with flavour and not fat we become satiated easier. Think about an all you can eat buffet versus a portioned meal at a high end restaurant. Be creative this thanksgiving to add flavour in a healthy way and blow the minds of your guests with your culinary expertise.
A Thanksgiving meal is a wonderful way to celebrate a family gathering. Make this Thanksgiving memorable whether you are cooking or simply enjoying the food and company of others. Don't leave the table feeling like you've overdone it, but rather savour all the flavours the autumn harvest has to offer.
By Sarah Bamber