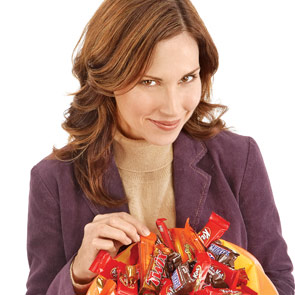 Enjoy Halloween Without Breaking Your Diet
Halloween is upon us. The ghosts, goblins and trick and treaters will soon overrun your home and tempt you with sugary treats to break your diet. It's a terrifying time of year for dieters who are confronted with the beginning of the holiday season and all its delicious wonders. But if you are savvy, you'll know how to enjoy Halloween, maintain a healthy diet and not feel left out.
Here's a few ghoulish tips:
Plan Ahead: It is Halloween after all and the devilish desserts will be in every household and around every corner. So plan ahead and prepare your diet for wiggle room so you can afford a few treats.
Buy Smart: Purchase low sugar candies to have around the house on Halloween so you won't binge on the leftovers.
Daily Indulgence: For the candies that may tempt you, try to only have one a day. For dessert or an after lunch snack at the office. This way your craving will be satisfied and you won't be compromising your diet.
Count out Pieces: If you are faced with a bag of delectable candy, only take out a few pieces. By not eating from the bag, you can portion your candy intake.
Distraction: When the cravings for diet breaking candy become too much, chew on some gum to satisfy the urge.
Replace the Goods: And if the monster inside you screams for candy, try having some gummy bears or healthy snacks like fruit instead.
With these little tricks, you can enjoy your Halloween treats (in moderation, of course) and not fall off the hayride. Your health and diet are very important and should take priority over a creepy holiday. So grab your pitchfork and mask, and celebrate with your kids knowing that the sweet temptations of the night won't scare you away.
By Rachel Horwitz
http://www.webmd.com/