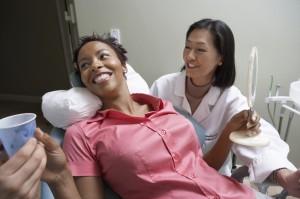 A yearly physical is often the only doctor's appointment people make during the year, and it isn't until a problem arises that we look for more answers. Make 2013 the year of prevention, and take the time to book appointments with these specialists to make sure you are in the best shape possible.
Family Doctor:
A family doctor is someone who you should feel comfortable talking to, knows your history and who listens to your concerns. Even if you have no concerns with your health, updated weight, heart-rate, blood pressure, physical exam, lab tests and updated medical history are important details to have on file. You will often need a referral from your family doctor to see the specialists listed below.
Dermatologist:
Learn how to properly protect your skin from the sun and what lotions to apply throughout the year to protect yourself. A dermatologist can check unusual birthmarks and spots you may find concerning and even help with pesky acne that has been troubling you.
Gynecologist:
Women over the age of 18 should see a gynecologist for a pap smear, and questions around birth control, pregnancy and prevention of sexually transmitted diseases. Women who are peri or postmenopausal will have different needs which a gynecologist can address. Never feel embarrassed when speaking with your gynegologist, be honest and express your concerns for the best care.
Dentist:
Every 6 months to a year is recommended to see a dentist for cleaning and checkup. Dental x-rays may be required depending on your age and your dental health. Your teeth tell a story about your diet and lifestyle and it is important to maintain them for good overall health.
Optometrist:
If you wear glasses or contact lenses, visit your optometrist every one to two years, unless they recommend more visits.
Proctologist:
Often it is a name that sparks a giggle, however getting a colonoscopy every 10 years if you are over 50 (or more frequently for people at a higher risk) detects colorectal cancer early and can save your life! A simple referral from your family doctor is all that's needed for this cancer screening test.
Otolaryngologist (Ear, Nose and Throad specialist ENT)
Speak to your family doctor about a referral to an ENT surgeon if you are having trouble hearing, ringing in the ears, sinus pain or head and neck cancer. If you are plagued by sinus pain from allergies you may find the answers you have been searching for!
Prevention is often the most overlooked area in health care. Make sure to address small concerns before they arise into a problem and see the list of specialists above to fully examine your body. Take the time to make a few appointments and you will be doing wonders for your long term health!
By Sarah Bamber